Tow Ball Weight Scale
When loading your caravan with perishables, your tow ball weight changes if your perishables are not packed evenly over your axles. In the case of boats, stored fuel creates all sorts of dynamic changes to your towing.
A well-balanced rig helps prevent camper and caravan sway.
An excellent alternative to obtain your coupling weight is to ask your service centre to measure it during servicing.
Please note: The coupling and the weight scale must be on a level plane with one another. For example, the weight scale should be perpendicular to the trailer coupling before insertion. Should both items not be vertical, the scale can be bent internally and become sticky in extreme cases.
Please note that this product is not designed for applications with offroad and pin-type couplings and should be used with a standard 50mm ball hitch. 
Specifications
Min Weight - 100kg
Max Weight - 350kg
Steel Construction
What is the best brand of tow ball caravan scales?
There are some no-name brands around and some famous name brands in the caravan market. I prefer to invest in a quality brand name.
How do I re-calculate my ATM?
Take your rig to a weighbridge and drive your car off the bridge so you only weigh your caravan.
Grab your weighbridge certificate.
Do you have an official certificate with your trailer weight?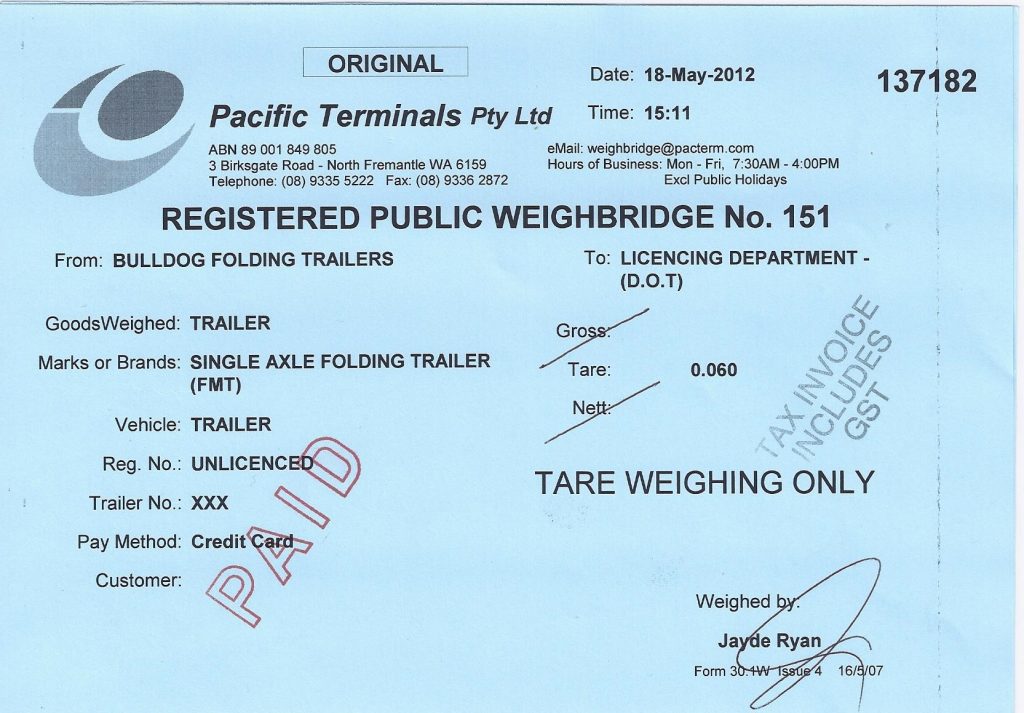 At this stage, you have measured the axle group.
Unhitch your caravan using the tow ball weight scale and weigh the head weight of the coupler. (Take a photo.)
Add the axle group's weight to the weight from the tow ball scales, and you now have your trailer ATM.
How you can go to your caravan certifier, show them the weighbridge certificate and the head weight photo. Your certifier now has enough information to commence the re-rating process.
A tow ball weight scale for a boat trailer or caravan is the only way to keep your tow ball weight constant.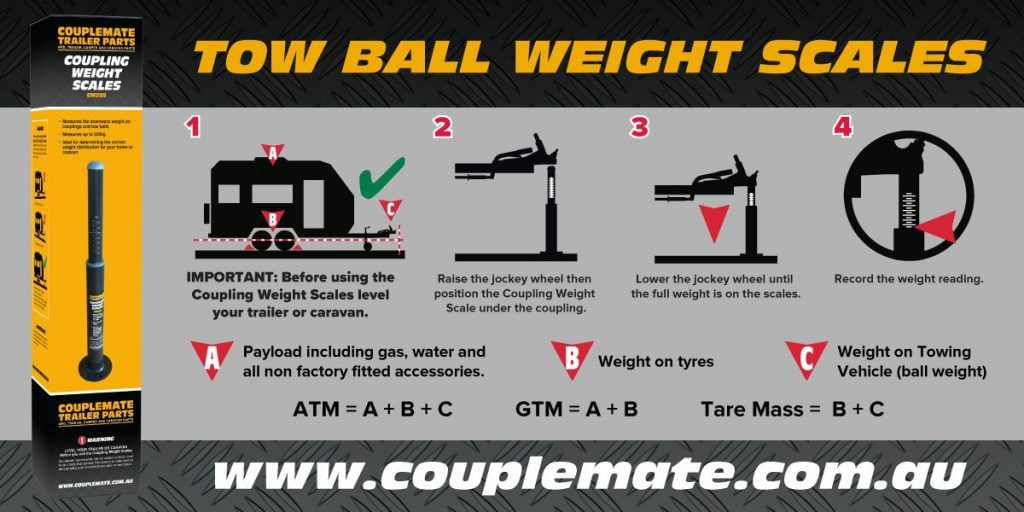 How does the tow ball caravan scale work?
Measure your tow ball weight when new or unloaded; ensure your new loads (water, waste, food, beer) do not change your tow ball weight.
In our opinion, the Tow Ball Caravan Scale is essential equipment for every caravan and truck.
Essential, how so?
Light Tow Ball
The tow ball weight of your caravan or boat trailer is essential to stop your caravan or boat trailer from swaying.
A light tow ball weight causes excessive sway and sometimes makes your boat or caravan un-towable.
Heavy Tow Ball?
If your tow ball weight is too heavy, then your car suspension can be overloaded, causing your headlights to be too high and your boot too close to the ground. It can also create light and unresponsive steering.
The best-recommended minimum coupler head weight for towing caravans, trailers and campers (no lower):
Tandem Axle Coupling =  5% - 7% of the ATM. A Tandem axle applies more lateral friction than a single axle.

Single Axle Coupling =  7% - 10% of the ATM
The above percentages may be controversial. I suggest you try them, and you may find out that mechanical weight or load levellers become redundant.
A correctly weighted caravan or camper towed in conjunction with electronic stabilisers should not require load levellers or friction couplings.
Heavier tow ball weights may lift your headlights and lighten your steering.
Have you ever felt your caravan pushing your car through traffic lights?
Yes, your coupling weight is too heavy. Why?
The vehicle manufacturer has adjusted the headlights to the maximum recommended tow ball weight. Excess tow ball weight alters the headlight's maximum allowed altitude when driving on the highway.
With an overloaded tow ball height on your tow bar, the vehicle's front suspension becomes light, preventing safe steerage.
Our latest article is on how to balance your caravan.
First-time use of 2000kg Boat Trailer
When you use the tow ball weight scale, estimate your tow ball weight before placing your coupling onto the tow ball scale. The first time using the tow ball scale can be pretty surprising if you watch the video.
Using the 5% formula, my estimated coupling weight will be 100kg.
Surprisingly, the actual weight was 200kg, 100kg beyond my estimate. It was accidentally placing undue weight and stress on my vehicle.
What a surprise. I quickly adjusted the coupling weight by moving my boat back only 1". Easy to do, loosening the bolts on the winch post and moved the winch post backwards by 25mm.
Reweighted my coupling weight, and it was perfect at 100kg.
The best-recommended towing rig setups are as follows
Tandem Axle Coupling =  5% to 7% of the ATM
Single Axle Coupling =  7% to 10% of the ATM
A caravan might take a bit more moving essentials in the cupboards.
How to set up your tow ball weight scale
Firstly, we always recommend the best place to start is with a weighbridge certificate so you can set your tow ball weights tyre pressures and organise your caravan correctly for towing.
Check your VIN plate against your weighbridge certificate.
Slip your tow ball scales under your trailer coupling.
5% for tandem axle caravans and 7% for single axle trailers ideal. More than 7% is pushing the limits and possibly the limits of your car's suspension.
You may be able to arrange a change of weight distribution in your caravan by moving the weight forward or backward of the axle. For example, a 2000kg trailer with a 300kg ball weight is too heavy. Moving 50-70kg backward of the axles reduces your ball weight. Subsequently, this will move weight from your car suspension through the coupling to your caravan suspension.
Test your new setup by merely towing your caravan on the highway. As a result, you should not experience sway at 80 km, even when passing heavy vehicles.
Measures the ball weight of your caravan or trailer up to 350kg
Easy-to-read weight gauge
Rounded ends to fit all couplings
Calibrated scale using an internal spring mechanism
Powder-coated steel
Complete instructions for use and set up
Retail-friendly packaging
Towball weight scale remedies
If heavy on the scales, shift weight from the axle's front to a more central location. This action will lower the weight of your tow ball, allowing your vehicle to become lighter and brake more effectively.
If you are light on the tow ball scales, your trailer will sway on the highway. Consequently, put more weight forward of your front axle.
If your caravan is not level with the towing vehicle tow bar, a high shoulder tow ball may give you enough lift for your rig to pull level and true.
Firstly, put a level on your caravan chassis rail. Then, line up your tow bar with your coupling.
What is the distance when both tow ball and coupling are levels?
If it is level, then great! However, you may need a 25mm or 50mm lift if not. These high-should tow balls are perfect for straight and effective towing. In addition, you can click the image and add it to your cart.
There are one size extra height shoulder shanks, 25mm.
In conclusion, please leave a review and tell me your thoughts about this tow ball caravan scale.
Additional information
| | |
| --- | --- |
| Weight | 3 kg |
| Dimensions | 50 × 10 × 10 cm |