Description
Stinger Receiver Drop Hitch
Stinger Receiver Hitch to suit tow bar drops from 50mm to 250mm.
All stinger receiver bars are made from Aluminium alloy and comply with Australian standards.
While aluminium is a soft metal, the alloy component increases the strength of this product. As a result, many years ago aluminium alloy was introduced to produce mag wheels. Aluminum looks great and is easy to restore to new. Owners simply need to polish their Stinger with a rag, soap and water.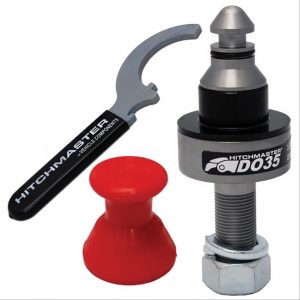 Select a tow ball from the drop-down menu if you do not already have a tow ball. The ball suits the Stinger.
Cruisemaster DO35 Pins
The American Stinger series all have a 25mm hole for the tow ball. Cruisemaster manufactures a 25mm pin for the American series DO35.
Tow bar Hitch Receiver Drawings
Is Aluminium solid enough for use in ball mounts?
The short answer is YES! When Andersen Manufacturing, Inc. first released the Alumistinger solid aluminium ball mount, many in the industry thought we were doomed to failure. But, after many years and many miles of problem-free service, the industry had to change its tune. Many companies have released remarkably similar products. When you decide to step up from your rusty steel hitch to the great look of aluminium, remember Alumistinger was first. Insist on the Original!
Alumistinger ball mounts will never rust and are much lighter than standard steel ball mounts of similar strength. The aluminium looks great by itself, so there is no need for paint or chrome plating that will chip and peel over time. To keep the shine, you need to polish the hitch from time to time, restoring the high gloss surface and making your hitch look brand new. The perfect product for this is Andersen's Fast Shine Premium Metal Polish, which gives you twice the shine in half the time!
Source: https://andersenhitches.com/Catalog/alumistinger.aspx
Couplemate Trailer Parts sells only the best quality Stinger Receiver Hitch and caravan spare parts throughout Australia.
Customers are welcome to either pickup or take advantage of our low freight rates. Express shipping to Melbourne, Sydney, Brisbane, Perth, Adelaide, Darwin, and Hobart.
We also ship products to New Zealand via Australia Post Air Express.
© Steve Wotherspoon June 14, 2019. Images and text may be copied, provided a link back to the copied page and the source is displayed where the content or image is located.
Last Updated on