Description
45mm Square Electric Brake Axle Kit
45mm square electric brake axle kit provides additional strength under all conditions for caravan rated braking loads.
Where are these axles made?
Couplemate axles are classified and registered as Australia Made® with most components manufactured in our Wynnum workshops, Australia. Products made in Australia by Australian labour is your guarantee of quality craftsmanship.
The 45mm Square Axle is the axle of choice for all quality caravan builders. Smaller axles can cause axle fatigue.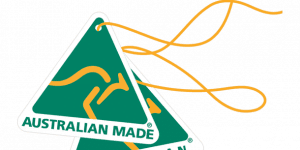 Here is Why Couplemate Make One of the Best Electric Brake Axle
BlueScope Steel
Australian made Drums
Premium electric Backing plates
Japanese NSK® Bearings
Pre-adjusted brakes
Finally, Couplemates lifetime warranty against faulty craftsmanship.
Learn here how to fix vibration fatigue.
In short, an overloaded axle causes axle fatigue. Axle fatigue is common for 39mm round axles and some 45mm round axles. The wider the axle, the more susceptible to axle fatigue. Fatigue will cause your springs and all of your trailer attachment to age prematurely.
45mm Square Electric Brake Axle Kits
Ford – 5 Stud x 1/2″
Ford OffRoad – 5 Stud x 1/2″
HT Holden – 5 Stud x 7/16″
HQ Holden – 5 Stud x 7/16″
Commodore – 5 Stud x 7/16″
Landcruiser  – 5 Stud x 9/16″
Landcruiser Parallel  – 5 Stud x 9/16″
Off-Road Landcruiser – 5 Stud x 9/16″
Off-Road Parallel Landcruiser – 5 Stud x 9/16″
Landcruiser – 6 Stud x 1/2″
Landcruiser Parallel – 6 Stud x 1/2″
Off-Road Landcruiser – 6 Stud x 1/2″
Off-road Parallel Landcruiser – 6 Stud x 1/2″
6 Stud Nissan – 6 Stud x 1/2″
6 Stud Nissan OffRoad – 6 Stud x 1/2″
We back Australian craftsmanship with a lifetime warranty on faulty products made by Couplemate®.
Calculating The Correct Axle Measurements
As a result of viewing the video above, calculate the face to face measurement.
Measure the offset wheel. The wheel offset is the distance between the inside of the hub and the outside of the rubber.
Add 50 mm to the offset. Alternatively, choose your own distance between the rubber and the chassis.
Multiply by 2 for both sides. Add your chassis width to the above number.
Metric to Imperial Converter
Convert Imperial (inches) to metric (mm)
Still unsure of what measurements to take? Check out this handy guide below:
[P] – Check material specifications. What size and profile is the axle (for example, 45mm Square)
[T] – Overall axle length (tip to tip)
[F] – Hub face to hub face measurement
[A] – Chassis width
[C] – Tyre clearance
[B] – Back offset
[H] – Tyre to chassis
[G] – Axle pad centres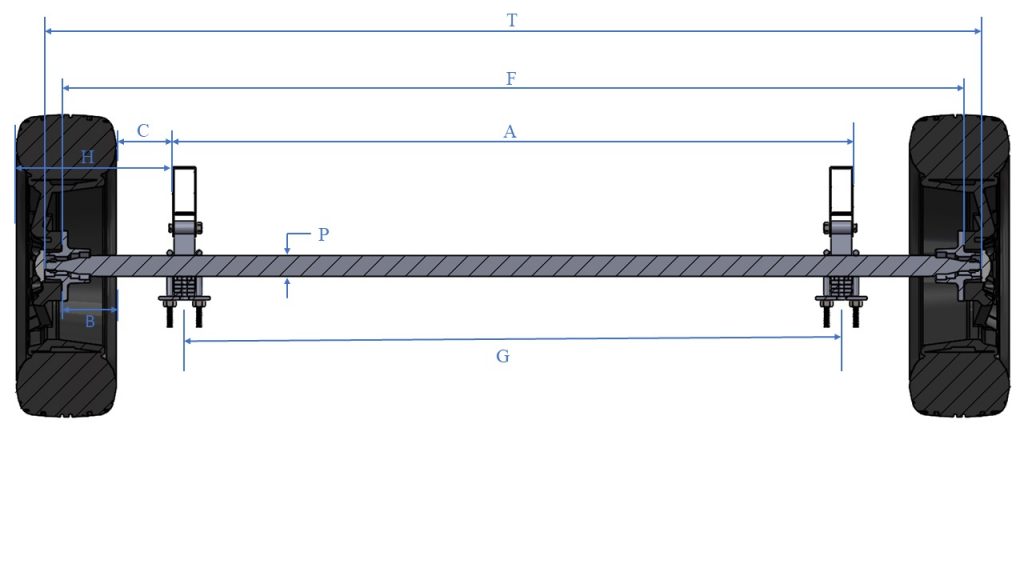 Identifying Bearing Combinations
You will also need to identify your bearing combination which can be done by pulling off a hub and bearings, and locating the number laser engraved onto the bearing. You will require both the inner and the outer bearing number.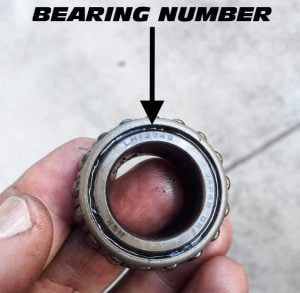 Purchase other braked axles here:
Couplemate Trailer Parts sells only the best quality 45mm Square Electric Brake Axle Kit and caravan spare parts throughout Australia.
Customers are welcome to either pickup or take advantage of our low freight rates. Express shipping to Melbourne, Sydney, Brisbane, Perth, Adelaide, Darwin, and Hobart.
We also ship products to New Zealand via Australia Post Air Express.
© Steve Wotherspoon April 7, 2014. Images and text may be copied, provided a link back to the copied page and the source is displayed where the content or image is located.