Description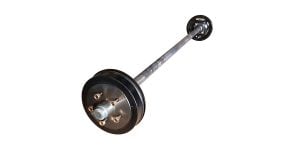 45mm Round Hydraulic Drum brake kit to suit 9″ drums. Suits 2000kg override couplings with a master cylinder — single Axle rating 1450kg.
Hydraulic Axles are suitable for trailers and caravans.
The rating of this axle is 1450kg as this axle uses Ford Slimline bearings.
9″ hydraulic braked axles are very simple to install. Attached the Hydraulic backing plates to a weld ring, welded to the rear of the axle shoulder.
The hardest part of the entire job is to align the weld rings perfectly.
We recommend customers dry-fit the brake backing plates and mount brackets, without grease. Once the drum is in position and locked with the axle nut, tighten the brake shoes.
Align the backing perfectly with the hub drum and then spot weld the ring in 4 places. Re-adjust where necessary and then finished the welding on the ring.
The disc braked axle is another popular mechanical braked axle.
45mm Round Hydraulic Drum Installation help
Other 9″ mechanical and hydraulic braked axles here:
45mm Round Hydraulic Drum Brake Axle Assembly | 9 inch
Couplemate Trailer Parts sells only the best quality 45mm Round Hydraulic Drum Brake Kit – 1450kg and caravan spare parts throughout Australia.
Customers are welcome to either pickup or take advantage of our low freight rates. Express shipping to Melbourne, Sydney, Brisbane, Perth, Adelaide, Darwin, and Hobart.
We also ship products to New Zealand via Australia Post Air Express.
© Steve Wotherspoon May 21, 2019. Images and text may be copied, provided a link back to the copied page and the source is displayed where the content or image is located.