Description
39mm Round Axle suit Standard Bearings and made in Australia
39mm Round Axle suits small box and boat trailers. 750kg is the maximum rating for LM or standard bearings. Measure axles from the tip of thread to end of the thread. Quality axles are not easy to manufacture. Let's run through the process from the video below.
How to measure bare or straight axles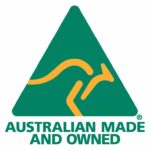 A solid beam of steel is cut to the correct length.
Couplemate developed a program to use a roughing tool, a finished tool, and a threading tool.
The first tool used in the video is a roughing tool. This tool removes most of the steel before we arrive at the finishing profile.
The finishing tool skims over the profile and produces a journal within 0.02mm.
Once the finishing tool has done its job, a threading tool is engaged, which also cut a thread within 0.02mm of its specification.
The CNC technician then manually fits front and back bearing to ensure a tight fit. The axle nut is then tested for tightness.
Finally, if all the steps above pass, then the axle is removed from the lathe.
Standard or LM Bearing Sizes are
Inner ID 31.75mm, OD 59.10mm
Outer ID 19.05mm, OD 45.20mm
Seal ID 37.5mm, OD 59.10mm
Dust Cap 45.20mm
Couplemate manufactures 39mm round trailer axles in Wynnum, Queensland. BlueScope or One Steel provides the best axle money can buy. If you can find a better product, please tell me. The 39mm Round Axle is perfect for your trailer, caravan or camper if you are towing your rig straight and true, perfect, if not then below are a few tips.
Common problem:
Too much weight will bend this 39mm Round Axle to experience excess axle flex. You can read about axle flex and vibration here.
Axle flex occurs when heavily loaded trailer springs rebound on the highway causing the axle to flex up and down in the middle of the axle.
Springs to fatigue – fail prematurely under axle flex loading conditions.
If the load is over 750kg, axle flex will occur.
If the axle is 39mm Round and bending, buy a 45mm round axle and update to 1.5t.
It is not expensive in comparison to replacing springs that have suffered fatigue.
Other Common Problems:
Rough seal journals can cause a loss of grease through the rear seal.
Some suppliers supply non-virgin steel or scrap steel and forge this steel into solid square or round shape for axle production.
Chinese bearings are the second biggest cause of axle failure. If you plan driving on the highway, use Japanese bearings. The combination of Japanese Bearings and 39mm round Axle will help you significantly with lower maintenance for your rig.
News Articles
Finally, I invite you to comment in the review box below.
39mm Round Axle
Couplemate Trailer Parts sells only the best quality 39mm Round Axle and caravan spare parts throughout Australia.
Customers are welcome to either pickup or take advantage of our low freight rates. Express shipping to Melbourne, Sydney, Brisbane, Perth, Adelaide, Darwin, and Hobart.
We also ship products to New Zealand via Australia Post Air Express.
© Steve Wotherspoon June 12, 2014. Images and text may be copied, provided a link back to the copied page and the source is displayed where the content or image is located.