Axles - Trailer and Caravan
Trailer Axles, Drop Axles, Overlay Axles and Independent Suspension Stubs.
All caravan and trailer axles are Australian Made
Couplemate manufacturer's replacement axles for trailers, caravans, camper trailers and boat trailers in its Wynnum workshops.
How are Trailer Axle Kits made?
Axles are manufactured from virgin Bluescope steel and turned in our CNC Lathes.
https://youtu.be/ntHMZqYj_9Q
Our specialty is custom heavy-duty axles for independent trailer coil spring suspension and Rocker Roller trailer kits. In short, our CNC toolmakers and technicians manufacture precise square shafts for the smoothest ride.
Also, as a side note, the most popular setup for a dual axle trailer is an axle fit to suit rocker roller springs.
Firstly, the process of ordering a replacement axle starts by measuring the total axle length or face to face measurement – see measurement F below.
Convert Face to Face measurements to Tip to Tip measurements
S/L x 10 inch Electric Drum – add 103mm
S/L x 150mm Lazy – add 100mm
10-inch Disk Rotor – add 98mm
PLL x 10 inch Electric Drum – add 122mm
2T x 12 inch Electric Drum – add 172mm
2T x 205mm Lazy  – add 172mm
Secondly, it is important to check your bearing combination.
The most convenient and accurate way to identify your bearing combination is to remove your hub and bearings. Thereafter, locate the number laser engraving on the bearing.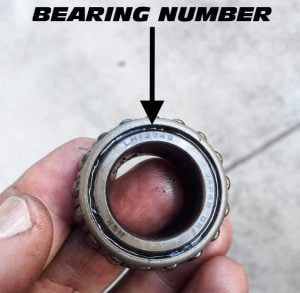 Finally, it would help to calculate your P.C.D for axles requiring braked or lazy hubs.
Question: How do I send axle information to you?

Please take a photo of your axle, complete our axle order form and then send it to us via email at sales@couplemate.com.au. We will contact you with any questions and a quote.
Our team of experts will help provide advice on brake axles and braked axle upgrades.
Give our team a call on 07 3348 3822 for help.
Delivery
Couplemate ship pallets of axles and suspension kits daily. As a result, our freight rates are cost-effective.
In addition, bare axles, braked axles or entire axle and suspension kits are assembled and shipped to you in a few days from order. Furthermore, we ship nationally and provide competitive freight rates.
Ride height is designed into camper design via the use of drop axles. On the other hand, airbags are another solution to increase ride height.
Also, Caravan & Trailer Axles are 100% Australian made and produced daily, as follows:
Straight shafts
Stub Axles
Overlay Axles
Drop Axles
Independent Suspension stubs
Specialty axles
Disc brake axles
Electric braked axles
Unbraked axles
Caravan axles and their maximum load capacity
39mm Round Axle – 750kg rating
39mm Round Axle – Galvanised
40mm Square Axle – 1000kg rating
40mm Square Galvanised Axle – 1000kg
Round Axle 45mm – 1600kg
45mm Round Galvanised Axle – 1600kg
Square Axle 45mm – 1600kg
45mm Square Parallel – 1600kg
45mm Galvanised Square Axle – 1600kg
50mm Square Axle – 2500kg
50mm Galvanised Square Axle – 2250kg
60mm Galvanised Round Axle – 3000kg
Finally, stocks of galvanised axle steel allow us to manufacture axles quickly.