45mm Square Galvanised Axle - 1450kg
45mm square galvanised axle is very popular in Queensland on galvanised boat trailers, galvanised box trailers, off-Road trailers and some car trailers. Rated to 1450kg.
Single and tandem axle length is measured from tip to tip. Axles supplied with nut, washer and split pin.
Inner ID 35.00mm, OD 59.10mm (68149)
Outer ID 22.00mm, OD 45.20mm (12749)
Seal ID 43.9mm, OD 59.10mm (491015)
Grease Cap 45.20mm (CM497)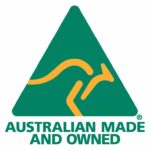 Heavy loads on light axles create what we call axle flex. Axle flex results in axle vibration at high speeds. This vibration occurs in the middle of the axle. Another name for axle flex is Vibration Fatigue.
Vibration Fatigue
The result of vibration fatigue is premature ageing or breaking of trailer springs, failed bearings, failed shackle bolts, springs and bushes and trailer vibration at high speeds.
Vibration fatigue is quite severe and can result in road accidents and fatalities.
If your 45mm Square Axle Galvanised is bending in the middle by more than 5mm your axle needs replacing with 50mm Square Axle depending on the width of your trailer. This 5mm band is caused by loading on your axle.
Vibration fatigue is quite common for 39mm round and 40mm square axles in wider lengths beyond 1800mm.
Campers, caravaners and boaties know their rigs best when it comes to wear and tear. You know where the vibrations go because you inspect your gear when it comes time to have dinner and you notice a thing like the silver is rubbing off the knives or the ivory is looking worn.
You can fix it with either a new axle or shock absorbers, depends whether you can dampen the vibration. Shock Absorbers will not dampen ALL axle vibration if the axle is over the weight limits.
If only they knew about vibration fatigue and axles that cause it.
Wider trailers require square axles for best suspension performance.
Caravan axles and their maximum load capacity
Additional information
| | |
| --- | --- |
| Weight | 80 kg |
| Dimensions | 90 × 4 × 4 cm |
| Tip to Tip Measurement | 1450mm Long, 1475mm Long, 1500mm Long, 1525mm Long, 1550mm Long, 1575mm Long, 1600mm Long, 1625mm Long, 1650mm Long, 1675mm Long, 1700mm Long, 1725mm Long, 1750mm Long, 1775mm Long, 1800mm Long, 1825mm Long, 1850mm Long, 1875mm Long, 1900mm Long, 1925mm Long, 1950mm Long, 1975mm Long, 2000mm Long, 2025mm Long, 2050mm Long, 2075mm Long, 2100mm Long, 2125mm Long, 2150mm Long, 2175mm Long, 2200mm Long, 2225mm Long, 2250mm Long, 2275mm Long, 2300mm Long, 2325mm Long, 2350mm Long, 2375mm Long, 2400mm Long, 2425mm Long, 2450mm Long, 2475mm Long |