45mm Round Hydraulic Disc Brake Axle Kit
45mm Round Hydraulic Disc Brake Axle Kit is used in salt water where electric brakes are unsuitable.
Hydraulic Disc Brakes are used on tandem trailers that are over 2000kg and used in conjunction with a hydraulic/electric controller system.
Axles are made using Australian steel and assembled in Australia.
This 45mm Round, Hydraulic Disc Brake Axle Kit, consists:-
Add master cylinder and bracket if required. 3/4" for single axle, 7/8" cylinder for tandem setups.
Caliper Adjustment
We get a lot of calls about Hydraulic Disc Brake caliper adjustment.
From time to time, the Hydraulic Disc Brake caliper piston can become dirty from road dirt and require a good clean.
If this is the case, remove the Hydraulic Disc Brake shoes and then carefully remove the piston and piston rubber boot.
Clean the piston and housing with warm, clean soapy water.
Replace the rubber boot or piston if it is showing signs of wear and tear.
Reinstall the piston and boot into the Hydraulic Disc Brake cylinder.
Use a 'G' clamp or similar tool to push the piston home to enable the hydraulic pads to insert correctly over the disc rotor.
Bleed the entire system to remove air bubbles.
Do not forget to leave your phone number at checkout.
We will call you to verify your length of the axle and check your measurements to ensure we get it right the first time.
If we make a mistake, we will fix our mistake at our cost.
Calculating The Correct Axle Measurements
As a result of viewing the video above, calculate the face to face measurement.
Measure the offset wheel. The wheel offset is the distance between the inside of the hub and the outside of the rubber.
Add 50 mm to the offset. Alternatively, choose your own distance between the rubber and the chassis.
Multiply by 2 for both sides. Add your chassis width to the above number.
Metric to Imperial Converter
Convert Imperial (inches) to metric (mm)
Still unsure of what measurements to take? Check out this handy guide below:
[P] - Check material specifications. What size and profile is the axle (for example, 45mm Square)
[T] - Overall axle length (tip to tip)
[F] - Hub face to hub face measurement
[A] - Chassis width
[C] - Tyre clearance
[B] - Back offset
[H] - Tyre to chassis
[G] - Axle pad centres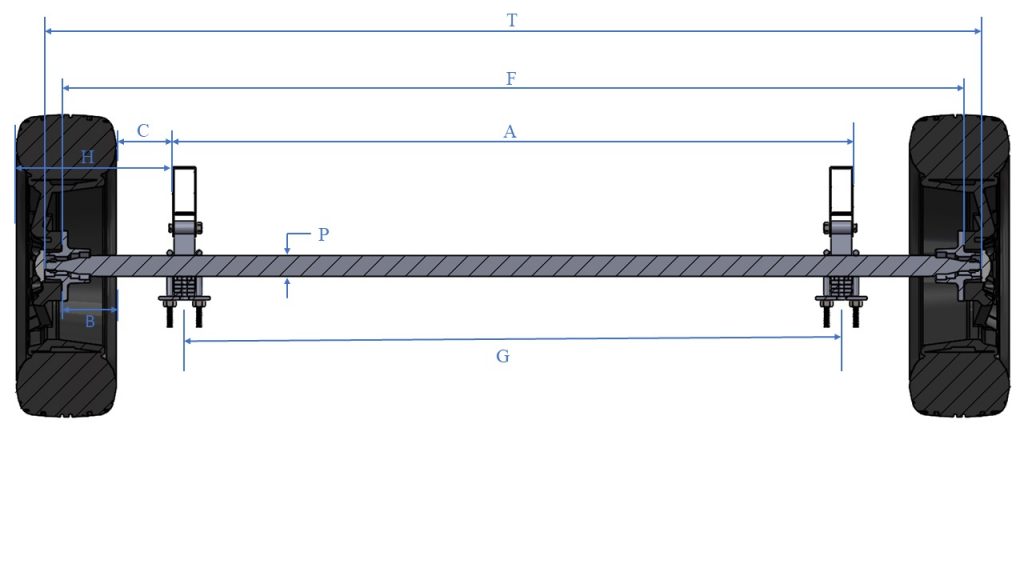 Identifying Bearing Combinations
You will also need to identify your bearing combination which can be done by pulling off a hub and bearings, and locating the number laser engraved onto the bearing. You will require both the inner and the outer bearing number.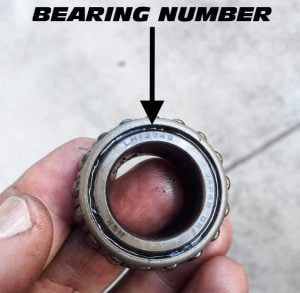 Additional information
| | |
| --- | --- |
| Weight | 180 kg |
| Dimensions | 90 × 30 × 30 cm |
| Stud Pattern | Ford, HT Holden, Holden HQ, Holden Commodore, Land Cruiser 6S, Land Cruiser 5S |
| Face to Face Length | 1325mm, 1350mm, 1375mm, 1400mm, 1425mm, 1450mm, 1475mm, 1500mm, 1525mm, 1550mm, 1575mm, 1600mm, 1625mm, 1650mm, 1675mm, 1700mm, 1725mm, 1750mm, 1775mm, 1800mm, 1825mm, 1850mm, 1875mm, 1900mm, 1925mm, 1950mm, 1975mm, 2000mm, 2025mm, 2050mm, 2075mm, 2100mm, 2125mm, 2150mm, 2175mm, 2200mm, 2225mm, 2250mm, 2275mm, 2300mm, 2325mm, 2350mm, 2375mm |