45mm Square Mechanical Disc Brake Axle
45mm square mechanical disc brake is galvanised and activated when the tow vehicle engages the override brake.
Disc Options
Holden HT.
Holden HQ.
Ford.
6 Stud Landcruiser.
5 Stud Landcruiser.
6 Stud Parallel Landcruiser.
Bearing Sizes
Re-check the outer bearing nuts for tightness immediately after the first trip.
Couplemate manufacturers and test all square mechanical disc brake override axles.
Trailer Parts include
45mm Square Axle rated @ 1450kg to 1600kg
Mechanical Override Disc Brakes are simple brakes to understand and maintain. Ensure brake caliper adjustments are made on the caliper bolt and not the cable adjuster.
Couplemate installs the latest Al-ko calipers on all of our mechanical braking systems.
The force exerted during braking from the tow vehicle engages the override brake, which in turn activates the mechanical calipers causing braking.
Please note: We ask you for your face to face measurement of your axle.
The latest news on small axles causing trailer and caravan axle fatigue.
Tip
Did you know that the bolts holding in your caliper can unwind themselves on rough, corrugated roads?
Couplemate uses a medium-strength locktite on all mechanical caliper bolts.
Calculating The Correct Axle Measurements
As a result of viewing the video above, calculate the face to face measurement.
Measure the offset wheel. The wheel offset is the distance between the inside of the hub and the outside of the rubber.
Add 50 mm to the offset. Alternatively, choose your own distance between the rubber and the chassis.
Multiply by 2 for both sides. Add your chassis width to the above number.
Metric to Imperial Converter
Convert Imperial (inches) to metric (mm)
Still unsure of what measurements to take? Check out this handy guide below:
[P] - Check material specifications. What size and profile is the axle (for example, 45mm Square)
[T] - Overall axle length (tip to tip)
[F] - Hub face to hub face measurement
[A] - Chassis width
[C] - Tyre clearance
[B] - Back offset
[H] - Tyre to chassis
[G] - Axle pad centres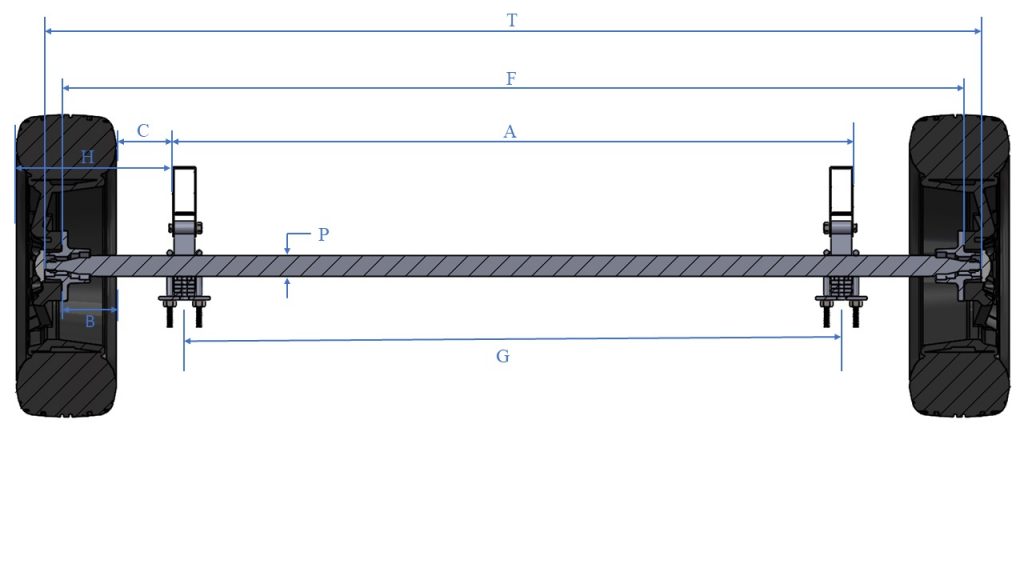 Identifying Bearing Combinations
You will also need to identify your bearing combination which can be done by pulling off a hub and bearings and locating the number laser engraved onto the bearing. You will require both the inner and the outer bearing numbers.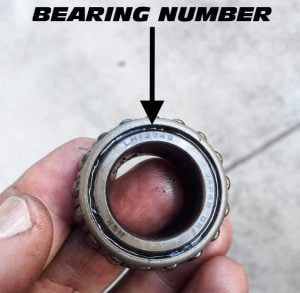 Review other brakes axle kits here
45mm Square Hydraulic Disc Brake Axle
Additional information
| | |
| --- | --- |
| Weight | 70 kg |
| Dimensions | 240 × 50 × 50 cm |
| Stud Pattern | 6 Stud Landcruiser – Parallel, Ford (5 x 114.30mm), Holden HT (5 x 107.95mm), Holden HQ (5 x 120.65mm), Land Cruiser 6S, 5s Landcruiser (5 x 150mm) |
| Face to Face Length | 1325mm, 1350mm, 1375mm, 1400mm, 1425mm, 1450mm, 1475mm, 1500mm, 1525mm, 1550mm, 1575mm, 1600mm, 1625mm, 1650mm, 1675mm, 1700mm, 1725mm, 1750mm, 1775mm, 1800mm, 1825mm, 1850mm, 1875mm, 1900mm, 1925mm, 1950mm, 1975mm, 2000mm, 2025mm, 2050mm, 2075mm, 2100mm, 2125mm, 2150mm, 2175mm, 2200mm, 2225mm, 2250mm, 2275mm, 2300mm, 2325mm, 2350mm, 2375mm |