45mm Square Mechanical Drum Brake Axle Assembly
45mm square mechanical drum braked kit to suit 9-inch drums. Suits 2000kg override couplings — single Axle rating 1450kg.
The rating of this axle is 1450kg as this axle uses Ford Slimline bearings. Axle rating is controlled by bearing sizes.
9 inch mechanically braked axles are very simple to install. Attached are the mechanical backing plates to a weld ring, welded to the rear of the axle shoulder.
Mechanical weld rings are identical to electric weld rings. The hardest part of the entire job is to align the weld rings perfectly.
We recommend customers dry-fit the backing plates and brake mounts, without grease. Once the hub drum is in position and locked with the axle nut, tighten the brake shoes.
Align the brake backing plate perfectly with the drum and then spot weld the ring in 4 places. Re-adjust where necessary and then finished the welding on the ring.
The disc braked axle is another popular mechanical braked axle.
Installation help
Other 9 inch mechanical and hydraulic braked axles here:
40mm Square Mechanical Drum Brake Kit - 1000kg

40mm Square Hydraulic Drum Brake Kit – 1000kg

45mm Round Mechanical Drum Brake Kit – 1450kg

45mm Round Hydraulic Drum Brake Kit – 1450kg

Square 45mm Hydraulic Drum Brake Kit - 1450kg
Calculating The Correct Axle Measurements
As a result of viewing the video above, calculate the face to face measurement.
Measure the offset wheel. The wheel offset is the distance between the inside of the hub and the outside of the rubber.
Add 50 mm to the offset. Alternatively, choose your own distance between the rubber and the chassis.
Multiply by 2 for both sides. Add your chassis width to the above number.
Metric to Imperial Converter
Convert Imperial (inches) to metric (mm)
Still unsure of what measurements to take? Check out this handy guide below:
[P] - Check material specifications. What size and profile is the axle (for example, 45mm Square)
[T] - Overall axle length (tip to tip)
[F] - Hub face to hub face measurement
[A] - Chassis width
[C] - Tyre clearance
[B] - Back offset
[H] - Tyre to chassis
[G] - Axle pad centres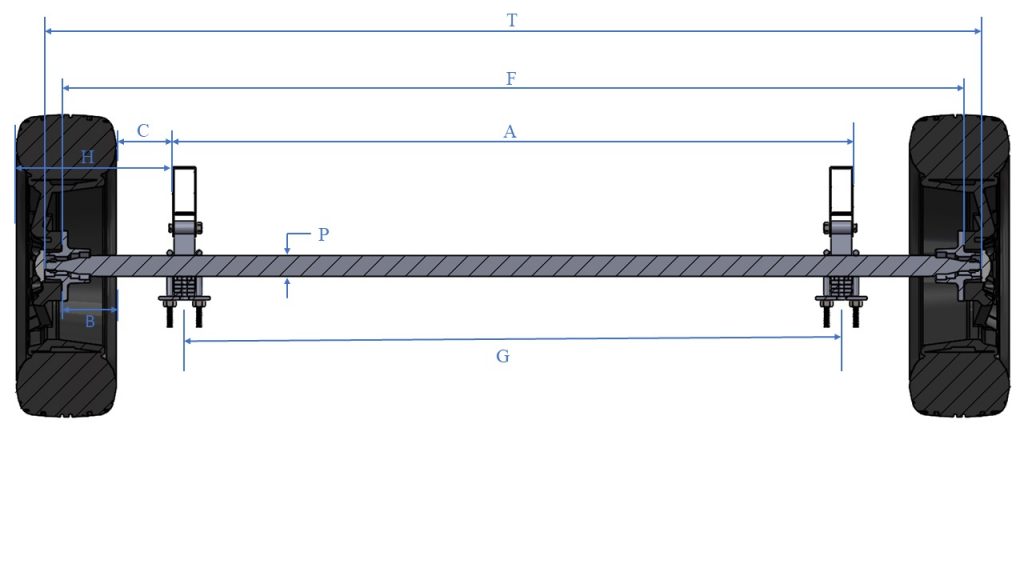 Identifying Bearing Combinations
You will also need to identify your bearing combination which can be done by pulling off a hub and bearings, and locating the number laser engraved onto the bearing. You will require both the inner and the outer bearing number.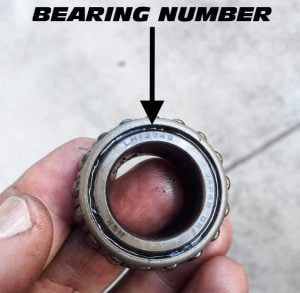 Additional information
| | |
| --- | --- |
| Weight | 70 kg |
| Dimensions | 240 × 50 × 50 cm |
| Stud Pattern | Ford (5 x 114.30mm), Holden HT (5 x 107.95mm), Holden HQ (5 x 120.65mm), Holden Commodore (5 x 120mm), Land Cruiser 6S, 5s Landcruiser (5 x 150mm) |
| Face to Face Length | 1325mm, 1350mm, 1375mm, 1400mm, 1425mm, 1450mm, 1475mm, 1500mm, 1525mm, 1550mm, 1575mm, 1600mm, 1625mm, 1650mm, 1675mm, 1700mm, 1725mm, 1750mm, 1775mm, 1800mm, 1825mm, 1850mm, 1875mm, 1900mm, 1925mm, 1950mm, 1975mm, 2000mm, 2025mm, 2050mm, 2075mm, 2100mm, 2125mm, 2150mm, 2175mm, 2200mm, 2225mm, 2250mm, 2275mm, 2300mm, 2325mm, 2350mm, 2375mm |