2t - 3t Mechanical Disc Braked Axle Kit
2t - 3t mechanical disc braked axle kit utilises a 50mm square galvanised to form the basis of boat trailer setup.
The 50mm square mechanical braked axle kit is a robust choice, and when you use it in tandem, extend the rating 4.5t
The Axle Kit Consists of the Following
Wheel Nuts
Assembled and tested
Galvanised axle kits have almost zero chance of rusting.
Purchase galvanised Rocker Rollers here.
Calculating the face-to-face measurement on your axle is important to know whether this would be the right fit. Here's how you can do it:
Measure the whole wheel offset, that distance between the inside of the hub inside the rim and the outside of the rubber
Measure the distance between the chassis and rubber or add 25 mm
Add the chassis width by multiplying the number by 2
Technical Specifications
Weight -  120 kg.
Dimensions - 200 x 30 x 30 cm.
Calculating The Correct Axle Measurements
As a result of viewing the video above, calculate the face-to-face measurement.
Measure the offset wheel. The wheel offset is the distance between the hub's inside and the rubber's outside.
Add 50 mm to the offset. Alternatively, choose your own distance between the rubber and the chassis.
Multiply by 2 for both sides. Add your chassis width to the above number.
Metric to Imperial Converter
Convert Imperial (inches) to metric (mm)
Still unsure of what measurements to take? Check out this handy guide below:
[P] - Check material specifications. What size and profile is the axle (for example, 45mm Square)
[T] - Overall axle length (tip to tip)
[F] - Hub face-to-hub face measurement
[A] - Chassis width
[C] - Tyre clearance
[B] - Back offset
[H] - Tyre to chassis
[G] - Axle pad centres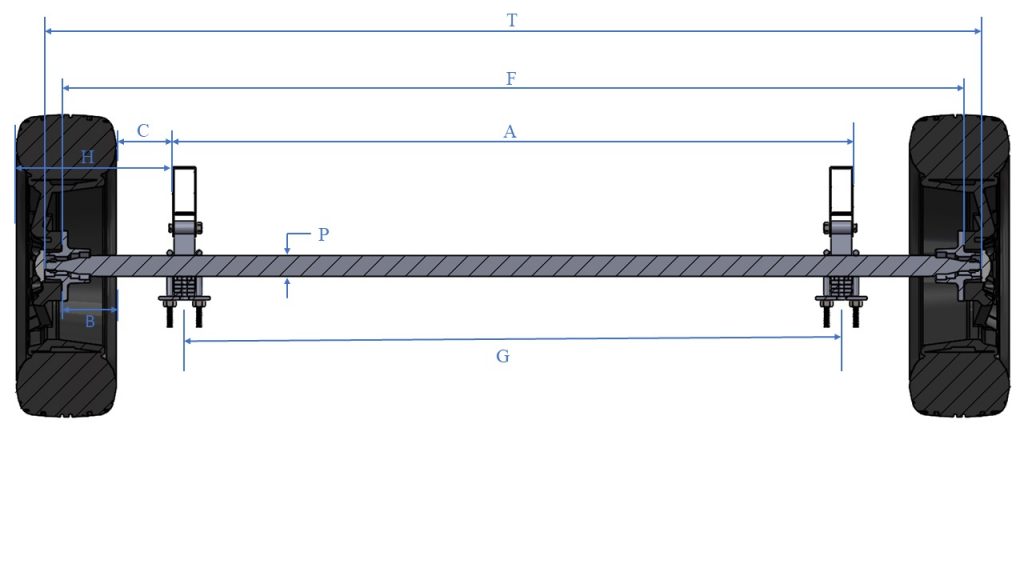 Identifying Bearing Combinations
You will also need to identify your bearing combination, which can be done by pulling off a hub and bearings and locating the number laser engraved onto the bearing. You will require both the inner and the outer bearing number.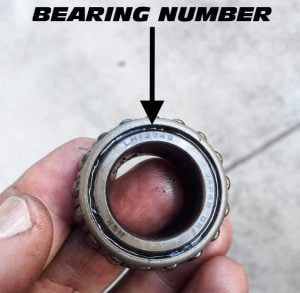 Visit our website for other types of marine braked axle kits like 45 mm square mechanical override disc brake axle kit, hydraulic disc brake axle kit - 45mm square, and even Landcruiser hydraulic disc brake axle kits. At Couplemate, we also offer U-bolt kits, tow hitch, and caravan trailer locks, to name only a few.
Additional information
| | |
| --- | --- |
| Weight | 90 kg |
| Dimensions | 230 × 60 × 60 cm |
| Select Stud Pattern | 5 Stud Landcruiser 9/16-inch Studs, 5 Stud Landcruiser 14mm Studs, 6 Stud Landcruiser 1/2-inch Studs, 6 Stud Landcruiser 12mm Studs |
| Select Profile | 2t – 15123/30210 Bearings, 3t – 29749/30210 Bearings |