50mm Square 2t Galvanised Axle Stainless Caliper - Rotors
50mm Square 2t Axle Stainless Caliper - Stainless Top Hat Rotors by Deemaxx, installed over galvanised Dexter Hubs.
Replacements parts are simple to install. Two bolts hold the caliper into position. To replace the disc pads, remove the two bolts and remove the caliper.
Push the piston back into its housing and insert the new disc pads. The disc pads will self align once the brake is engaged for the first time.
Check wheel bearings regularly, especially before big trips. The smallest adjustment will save you time and expense in the event of bearing failure.
Galvanised axle includes the following equipment
DeeMaxx Disc Caliper Axle Mounts
Choose five studs or six studs Landcruiser stainless top hats disc rotors.
Stainless calipers include stainless pistons and stainless disc pads.
Maintenance is an important aspect of trailering. Low maintenance or lack of inspections will definitely empty your wallet.
Spend a morning checking your rig will ensure peace of mind during your travels.
Associated parts from these links
Hydrapro Hydraulic Brake Actuator
Calculating The Correct Axle Measurements
As a result of viewing the video above, calculate the face-to-face measurement.
Measure the offset wheel. The wheel offset is the distance between the inside of the hub and the outside of the rubber.
Add 50 mm to the offset. Alternatively, choose your own distance between the rubber and the chassis.
Multiply by 2 for both sides. Add your chassis width to the above number.
Metric to Imperial Converter
Convert Imperial (inches) to metric (mm)
Still unsure of what measurements to take? Check out this handy guide below:
[P] - Check material specifications. What size and profile is the axle (for example, 45mm Square)
[T] - Overall axle length (tip to tip)
[F] - Hub face to hub face measurement
[A] - Chassis width
[C] - Tyre clearance
[B] - Back offset
[H] - Tyre to chassis
[G] - Axle pad centres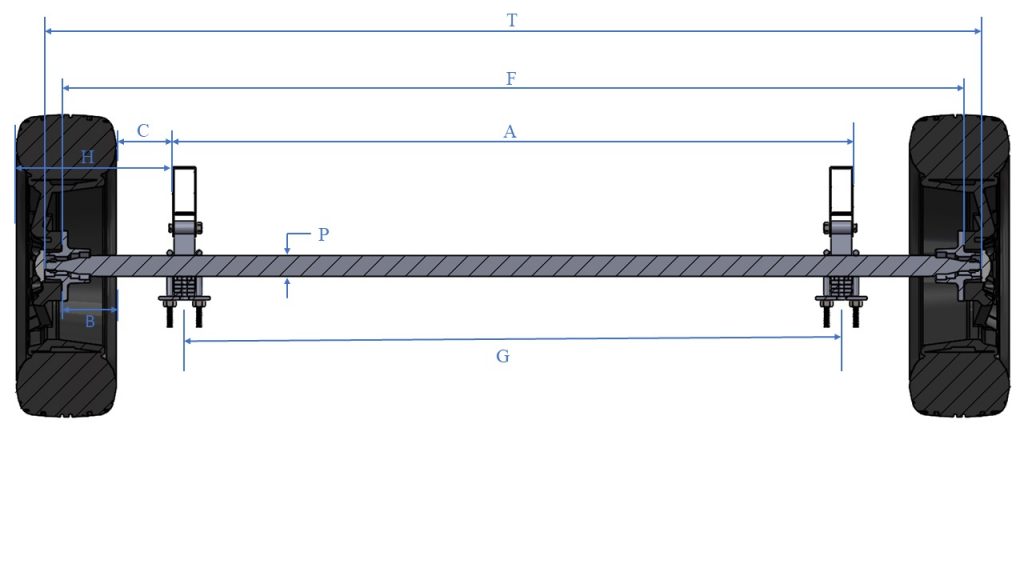 Identifying Bearing Combinations
You will also need to identify your bearing combination which can be done by pulling off a hub and bearings and locating the number laser engraved onto the bearing. You will require both the inner and the outer bearing numbers.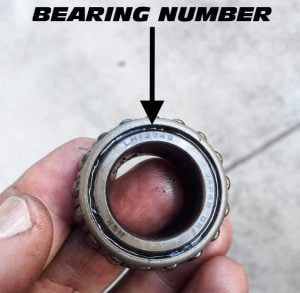 Additional information
| | |
| --- | --- |
| Weight | 90 kg |
| Dimensions | 240 × 60 × 60 cm |
| Stud Pattern | |
| Face to Face Length | 1325mm, 1350mm, 1375mm, 1400mm, 1425mm, 1450mm, 1475mm, 1500mm, 1525mm, 1550mm, 1575mm, 1600mm, 1625mm, 1650mm, 1675mm, 1700mm, 1725mm, 1750mm, 1775mm, 1800mm, 1825mm, 1850mm, 1875mm, 1900mm, 1925mm, 1950mm, 1975mm, 2000mm, 2025mm, 2050mm, 2075mm, 2100mm, 2125mm, 2150mm, 2175mm, 2200mm, 2225mm, 2250mm, 2275mm, 2300mm, 2325mm, 2350mm, 2375mm |