50mm Square Electric Brake Axle | Premium Australian-Made
---
The Couplemate™ 50mm square electric brake axle kit is designed to provide superior strength and reliability under all conditions, especially when dealing with caravan-rated braking loads. This axle kit is the preferred choice of those prioritising quality and performance.
Here's why our 50mm square electric brake axle kit stands out:
Exceptional Strength: The 50mm square axle is built with robust materials and engineering, ensuring it can withstand the demands of caravan applications.
Enhanced Braking Performance: Including electric brakes in this kit offers precise and effective braking control for your caravan. This is crucial for safety, as you can rely on the brakes to respond efficiently.
Quality Assurance: Our 50mm square axle kit is crafted to the highest quality and durability standards. It undergoes rigorous testing to ensure it meets or exceeds industry benchmarks. Caravan builders choose this axle for its reliability and long-lasting performance.
Wide Acceptance: This axle has earned the trust of top-quality caravan manufacturers. Its track record as the "axle of choice" speaks volumes about its dependability and suitability for the job.
Peace of Mind: When you choose our 50mm square electric brake axle kit, you're investing in peace of mind. You can confidently hit the road, knowing your caravan has a sturdy and dependable axle.
Product Specifications
---

Axle Material: K14045 BlueScope Steel
Brakes:

12" Drums
12" Backing Plates

Bearings: Japanese NSK
Weight Options:

Australian/Dexter 2000kg
Australian 3000kg
Axle Kit Contents
Your axle will come supplied as a fully-assembled kit, with nuts to suit your designed stud pattern:
1 x 50mm Solid Square Axle
2 x Weld Rings
2 x Electric Backing Plates (inc. park lever)
2 x Brake Drums
2 x Bearing Kits
Axle Lengths
All Couplemate™ axles are custom-made to order. When you place an online order, one of our team members will contact you to confirm the desired length of your axle.
If you're considering axle replacement, we recommend measuring from the point where one wheel bolts onto the corresponding point on the opposite side (commonly known as face-to-face). You'll also want to grab your bearing details or weight capacity.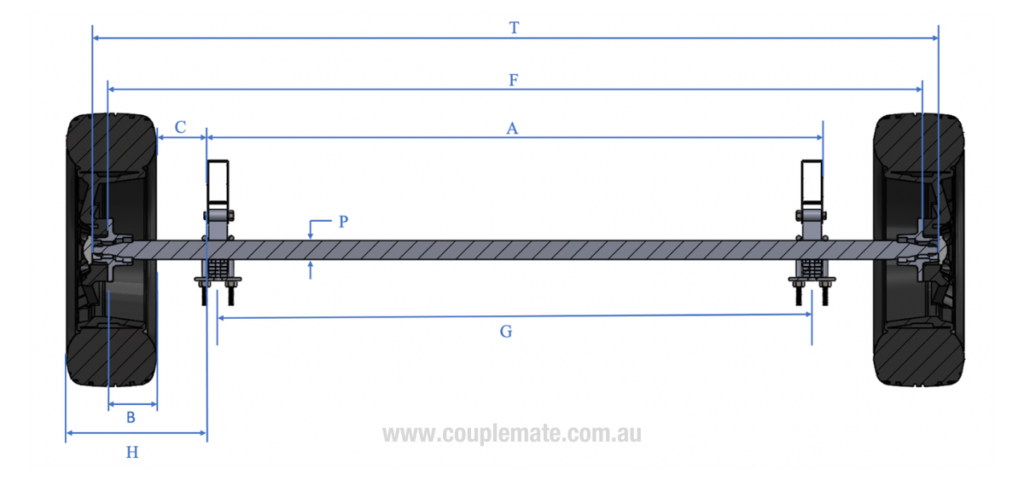 Not entirely sure?
If you're unsure about working out the exact length, that's why we're here!
We consider your chassis width, tire clearance, mudguards, and wheel backspace to ensure that the axle you receive is a proper fit.
Our team can chat Monday to Friday, 8:00 a.m. to 5:00 p.m. 
The Couplemate™ Confidence
---
We're confident in our axles and want you to be, too.
Our expert team of machinists and boilermakers manufacture all Couplemate™ axles in our Brisbane warehouse. Our commitment to excellence begins at the first point of contact, extending through every process stage.
We understand that when it comes to your trailer or caravan, the axles are the backbone of stability and safety, and that's why we leave no stone unturned in guaranteeing their reliability. We stand by the quality of our axles, assuring you that both materials and workmanship are free of defects throughout the product's entire service life.
For detailed information regarding our warranty policy, you can access it online anytime.
Couplemate™ is your trusted partner for axles you can rely on every step of the way.