Description
Tailgate Ramp Loader Spring
Tailgate ramp loader spring to suit horse float ramps and small low loaders.
How to select the correct size tailgate ramp spring
Often folks pick the most significant size to make sure the spring is heavy enough for the lift required.
Once installed, with the heavier spring, the horse float tailgate swings up so violently that it slams into the trailer with enough force to create damage.
Buying the correct ramp spring is simple if you follow a few steps.
You will need a scale, perhaps a bathroom scale
Lower the ramp onto the scale
You now have the weight measurement of the ramp
Select a size of spring that is 10kg more substantial than the scale indication.
Once installed, the load on your ramp will be 10kg at the point where it touches the ground
Car trailers and low loaders use drop or overlay axles. This type of axle lowers the centre of gravity thereby lowering the trailer. LInk to parallel overlay axle.
The image below shows one method of installation
Specifications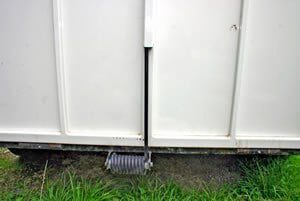 14mm – 40kg
16mm – 60kg
17mm – 80kg
19mm – 100kg
Dimensions
Small tail – 150mm from centre of the coil
Long-tail – 70cm from the centre of the coil
Coil OD – 80mm
Coil ID – 55mm
Purchase truck hinge kits here
Couplemate Trailer Parts sells only the best quality Tailgate Ramp Loader Spring and caravan spare parts throughout Australia.
Customers are welcome to either pickup or take advantage of our low freight rates. Express shipping to Melbourne, Sydney, Brisbane, Perth, Adelaide, Darwin, and Hobart.
We also ship products to New Zealand via Australia Post Air Express.
© Steve Wotherspoon December 9, 2019. Images and text may be copied, provided a link back to the copied page and the source is displayed where the content or image is located.