Description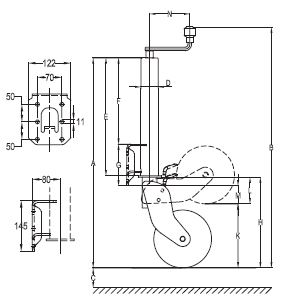 Al-ko Auto Retract Jockey Wheel is a heavy duty Auto Retract Jockey Wheels for heavier applications. Winding the handle automatically retracts the wheel and fork to a travelling position.
Originally designed for the EU and UK market, this modern auto-retract jockey wheel has become a favourite of boating manufacturers in Australia.
Editors Note: Finally, an auto retracts jockey wheel that works. However, there is a problem with the mounting holes as they do not Australian 4″ chassis rails.
Solution: We decided to machine some u-bolt holes to suit my 4″ drawbar and will load up a video and images soon. I am so impressed that I put the auto-retract into production and now machine holes in our CNC MIll to suit 4″ drawbars.
The auto-retract to suit 4″ chassis rails is available to retail customers only.
#622455
Static Load 500kg
Dynamic Load 300kg
Galvanised
DIM A – Max 975 / Min 790
Dim B – Min 840
Max extension from the bottom of the chassis rail 540mm
Max compression from the bottom of the chassis rail 75mm
Ideally, weld the bracket to the chassis rail.
The bolt holes will need to be elongated to fit 4″ drawbars or you can order then pre-drilled.
Attachment to 4″ drawbars via a U-bolt will require drilling the base plate. (Pre-Drilling is an Optional Extra)
Additional information can be found from this Al-ko link.
Heavy duty auto-retract jockey wheel, developed by Al-ko for boating applications.
Al-ko Auto Retract Jockey Wheel 8″