Description
10t Gooseneck Horsefloat Coupling has been tested and rated to 10,000kg.
Important: Select the correct pintle hooks from our D-Value sheet. Example, kN of your Coupling correctly matches your vehicle and trailer.

Coated with a chrome ElectroGal for longer life and improved aesthetics,
CM520
D.O.T and ADR APPROVED
CRN 47029
D-Value 58kN
V-Value 40kN
S-Value or the static vertical 'Coupling' load (kN) = 9.81 x S where:  S = 'ATM' – 'GTM' (tonnes).
Installation
The photo you see on this product were taken from our test rig after the product was tested for 2,000,000 cycles.
Tube wall thickness 7mm
OD 89mm
ID 75mm
Products were preheated before welding.
This chart will help you to calculate D-Value for your rig.
5th wheel couplings or the gooseneck horse-float coupling is ideal for mobile homes, horse floats and caravans over 4.5t. This coupling operates via a tow ball cm298 (Not Included) inserted in or on the bed of a pickup or similar truck of suitable capacity.
The tow ball is 3-inch diameter with a 2-inch shank.
Important Note
the CM520 gooseneck horse-float coupling can only be matched with the CM298 3″ tow ball. This is an ADR requirement.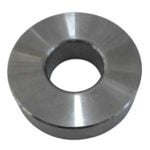 On occasions tow balls require reinforcement. We can provide a ring base to fit onto the tow ball.
The ring below has a diameter of approx 120mm and is 37mm in height. Designed to strengthen the plate between chassis rails by spreading the load across a greater surface area.
Click the image to purchase the reinforcement ring.
The CRN for this Approved gooseneck horsefloat coupling is 47029.
IMPORTANT NOTICE
When you purchase from Couplemate Trailer Parts, your CRN identification number for this gooseneck horse-float coupling is located on your Invoice. The CRN on the approval letter will be the same CRN on your Invoice.
Show vehicle inspectors this invoice during inspections of your trailer or vehicle if required.
Furthermore, if you are buying a gooseneck horsefloat coupling without a CRN and your trailer or vehicle is older than July 2009, therefore, it is not legal to use on Australian roads.
Finally, validate CRN Approved products by typing the manufacturer's name here.
Regulations for Towing and Accessories over 4.5t
Gooseneck Horsefloat Coupling