Description
45mm Galvanised Shackle Hanger Kit
45mm Galvanised Shackle Hanger Kit is suited to single trailers up to 1500kg.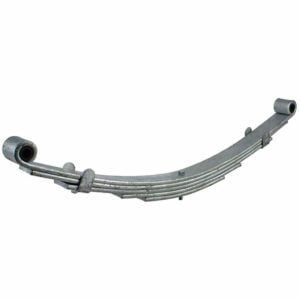 Use only on 8mm eye springs. (710mm eye to eye)
De-rating factor does not apply to load sharing suspension systems.
Important to note that the hangers be installed 735mm from centre of eye to centre of the front and rear hanger.
Click the image to buy 710m Shackle Springs.
635mm Shackle springs can be purchased here.
Shock loading conditions can cause the shackle hangers installed greater than 735mm centres to hit the centre rocker bar.
Hangers installed closer than 735mm centres will cause the spring to lock onto the centre rocker and prevent load sharing.
45mm Shackle Hanger Kit comprises the following parts
Two front hangers
6 x 9/16 inch shackle bolts + nylocks
2 x Rear Dumbjacks