Description
50mm square galvanised U bolt includes galvanise nylocks and washers.
Further, the 50mm square galvanised U bolt have rolled threads as opposed to cut threads. Additionally,
the thread length is 60mm.
the thread size is 1/2″ BSW.
U-Bolt kits with clamps are found here.
As U-bolts are now being used by a much wider audience to clamp any kind of tubing/round bar, then a more convenient measurement system needs to be used.
Four elements uniquely define any U-bolt:
Material type (for example bright zinc-plated mild steel or galvanised)
Thread dimensions (for example 1/2″ )
Inside diameter (for example 50 mm – the distance between the legs)
Inside height (for example 125 mm)
Mild steel stretches under load. It is essential you re-tighten u-bolts approx 200 km after installation.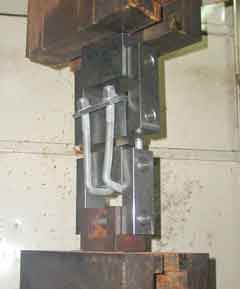 U bolts are stress tested during manufacture and batch test until destruction.
Accidents can be caused by loose u bolts.
Catastrophic consequences on a truck chassis were the result of incorrect u bolt tightening.
50mm Square Galvanised U bolt