Showing all 7 results
137mm Long U-Bolt
The 137mm length is measured from the tip of the thread to the underside of the top.
Mild steel stretches under load. It is essential you re-tighten u-bolts approx 200 km after installation.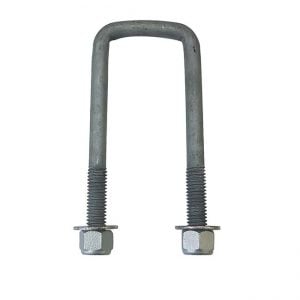 The kit comprises
2 x ElectroGal U-Bolts
2 x ElectroGal Washers
Nylocks x 2
Four elements uniquely define any U-bolt, they are:
Material type (for example, bright zinc-plated mild steel or galvanised)
Thread dimensions (for standard 1/2″ )
Inside diameter (for example, 50 mm – the distance between the legs)
Inside height (for example, 125 mm)
Further, square and round galvanised U bolts have rolled threads as opposed to cut threads. Additionally,
the thread length is 60mm.
The thread size is 1/2″ BSW.
Purchase U-Bolt kits with clamps here.
Finally, we recommend fighting u-bolts with a spanner or socket rather than a rattle gun. Battery rattle guns cause the nylon insert to overheat.