1/2 inch Square U-bolts for Caravans, Campers and Boat Trailers
1/2 inch Gal Square U Bolts are rated at 1500kg single axle trailers, although our U-bolts are tested to destruction which occurs at 17,000kg.
The smaller rating allows for several factors, including shock loading events.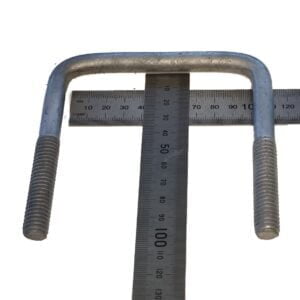 U bolts clamp axles used for trailers, caravans, and campers.
Significantly, to prevent clamp failure, tighten u-bolts after 300 kilometres.
Gal square U Bolts are manufactured from mild steel and stretch after the initial tightening.
Once the fishplate begins to bend during tightening, the u-bolts are tight.
Finally, expect to gain 1/4 or 1/2 a turn when retightening after 300 kilometres.
Why U-bolts may be the Major Cause of Accidents.