Trailer U bolt Kit - Galvanised including nylocks, washers, fishplates and axle Pads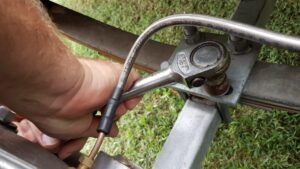 Couplemate designs trailer U bolt Kit to be strong and stand the test of time.
Couplemate u bolts are batch tested to exceed the Break Load Capacity of the rated ATM by a factor x 4. For example, 45mm Square U bolt BBL (Break Load Limit) is 17t per pair.
Trailer U bolt kits for 45mm springs up to 1500kg for single axle and 3000kg for tandem trailers. Customers had experienced breakages of 1/2" u-bolts under normal operating conditions.
Complete kits includes 4 x 1/2" Galvanised U-bolts + Nylocks + 2 x 8mm Fish plates + 2 x Axle Spaces. Specifications are
We test all of our 1/2" Ubolt Galvanised in batches to ensure we sell only the best quality money can buy.
Couplemate recommends tightening nylocks with a socket. Important: Tighten nuts on the diagonals.
Rattle guns used on tightening u-bolts tighten too fast and can cause the nylon inside the nylock to dislodge. Rattle guns can also cause one side of the fishplate to become too tight, causing spring breakages at the centre bolt.
The Couplemate 1/2" Ubolt Galvanised Kit have even been treated to prevent hydrogen embrittlement. Here is an interesting article about galvanising.
Does galvanising weaken the steel in Ubolt Galvanised Kits? Simple answer, No.
Additional information
| | |
| --- | --- |
| Weight | 4 kg |
| Dimensions | 20 × 10 × 5 cm |
| UBolt Diameter | 39mm Round, 40mm Square, 45mm Round, 50mm Square, 45mm Square, 50mm Round, 60mm Round, 65mm Round |
| U Bolt Length | 100mm, 112mm, 125mm, 137mm, 150mm, 162mm, 175mm, 200mm |