Description
100mm ElectroGal U-bolt Clamp Kit
100mm ElectroGal U-bolt Clamp Kit with plates are used to clamp equipment onto boat trailer, 4WD's or trailers. A good variety of other size clamp kits are available below.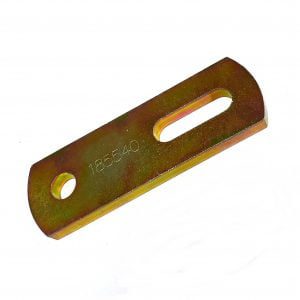 U-bolt kit includes
1 x ElectroGal U-bolt
2 x Galvanised Nylocks
2 x Galvanised Washers
1 x 8mm ElectroGal Shackle Plate
Available Lengths are
Used to clamp suspension brackets onto 100mm chassis rails on boat trailers. The break load limit of these u-bolts has been tested sheer at 17.5t.
Tip: Tightening with a rattle gun can cause uneven tension on the clamp. Rattle guns also melt the nylock causing it to be ineffective. Once a nylock nut has been used and removed from service, we recommend replacing this nut.
U-bolts are mild steel and require checking for tightness after the first 100 kilometres of travel. MIld steel stretches upon initial tightening so it is best to check.
Inside measurement is 100mm
Measure Inside of top to tip of thread to obtain the desired thread length
1/2″ U bolts with a 50mm thread
Read why u-bolts could be the major cause of accidents
This article is the catastrophic result of the incorrect tightening of u-bolt on a truck chassis
Purchase other size clamp kits here
Couplemate Trailer Parts sells only the best quality 100mm ElectroGal U-bolt Clamp Kit and caravan spare parts throughout Australia.
Customers are welcome to either pickup or take advantage of our low freight rates. Express shipping to Melbourne, Sydney, Brisbane, Perth, Adelaide, Darwin, and Hobart.
We also ship products to New Zealand via Australia Post Air Express.
© Steve Wotherspoon July 26, 2018. Images and text may be copied, provided a link back to the copied page and the source is displayed where the content or image is located.