75mm ElectroGal U-bolt Clamp Kit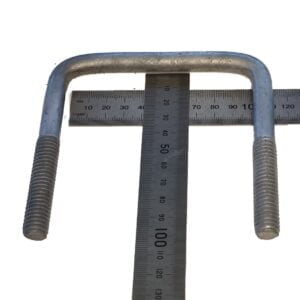 75mm ElectroGal U-bolt Clamp Kit with plates is used to clamp equipment onto boat trailers or like trailers.
U-bolts are measured from the inside of the leg to the tip of the thread. The width of the u-bolt is always measured by the internal dimensions.
Available Lengths are
Used to clamp suspension brackets onto 75mm chassis rails on boat trailers.
Tip: Tightening with a rattle gun can cause uneven tension on the clamp.
U-bolts are mild steel and require checking for tightness after the first 100 kilometres of travel. MIld steel stretches upon initial tightening, so it is best to check.
Inside measurement is 75mm
Measure Inside of top to tip of thread to obtain the desired thread length
1/2" U-bolts with a 50mm thread
Purchase larger 100mm u-bolts clamp kits here
Purchase individual 75mm Round Galvanised U-Bolt here
News Articles