Description
Wild Duck Airbag Suspension kits for Single or Tandem campers to 4.5t
Independent Airbag suspension suit all Australian road conditions. From Cape York to Broome, offroad electric brake kits are a must for camper trailers on this trek. The most popular reason our customers select this airbag suspension is
Airbag adjust to suit ride comfort
Adjust suspension according to changing weight loads
Airbags reduce vibration fatigue.
robust
reliability and
does not require constant camber adjustment
Experts help is readily available to help you with any height or ride needed information. One of the most popular questions. Do we provide replacement bushings? Wild Duck air bag suspension incorporates two high tensile bushings that are easily replaced if worn. Bushings are available from our store or upon request.
Features
A Twin-cylinder and 12-volt air compressor is included with the kit along with fittings and hoses.
Twin bellow airbags.
This zero camber is due to the rigid frame that provides fundamental strength to the entire suspension.
Coil suspension features our unique zero camber at full load.
Inbuilt structural rigidity ensures no camber movement.
Twin shock absorbers to increase dampening.
Off-road Magnets are standard.
To make your calculation simple, we can offer Sunraysia Rims and off-road tyres in 14 inch, 15 inch and 16-inch tyres with prices ranging from $244.00 to $344.00 for the 16-inch off-road tyre. (tyres are extra)
Price includes both left and right-hand sides. The Independent airbag suspension kit is built explicitly for its rigidity. We recognised rigidity as the key to independent suspension.
ATM Load Ratings according to the stub axle selection
1450kg – Slimline
1600kg – Parallel
2250kg – 2t Al-ko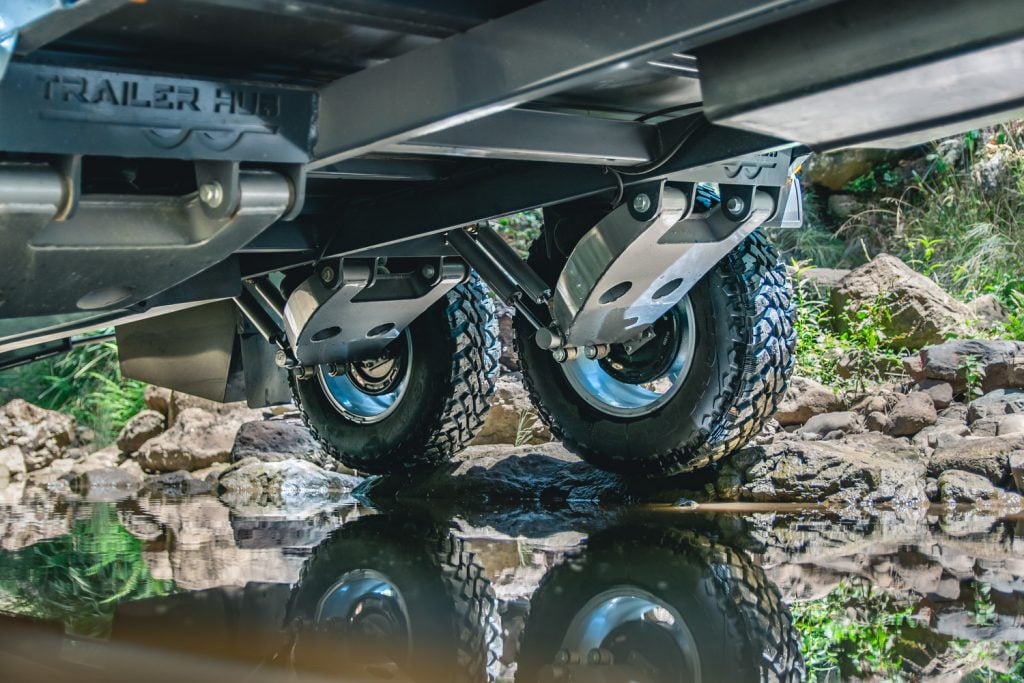 Hydraulic or Electric
Sorry, we cannot manufacture mechanical disc rotors kits for independent suspension.
Question: Is this independent suspension made in Australia?
Answer: Yes, the INdependent Suspension is manufactured in Queensland by Aussie workers.
Review more Suspension Systems here
Couplemate Trailer Parts sells only the best quality Independent Airbag Suspension – Wild Duck® and caravan spare parts throughout Australia.
Customers are welcome to either pickup or take advantage of our low freight rates. Express shipping to Melbourne, Sydney, Brisbane, Perth, Adelaide, Darwin, and Hobart.
We also ship products to New Zealand via Australia Post Air Express.
© Steve Wotherspoon May 10, 2019. Images and text may be copied, provided a link back to the copied page and the source is displayed where the content or image is located.
Last Updated on