Pin Towbar Socket / Plug
Seven-pin towbar socket to suit round and square trailer plugs. As a result of failing and broken brass screws, all trailer plugs are manufactured with stainless steel screws.
Use the drop-down to select electrical trailer parts and tow bar connectors.
Flat Socket - 7 pin
Flat Plug - 7 Pin
Round Socket - 7 pin
Universal angle bracket to suit round and flat sockets.
Plug Wiring Diagram

What is the difference between trailer connectors?
A socket attaches to the tow bar.
A trailer plug attaches to the trailer.
Poor connections cause bad connections. A handy tip is to spray the male plug terminals with WD40. This is a temporary fix to overcome corrosion problems.
Solder the cable ends before connecting into the terminal ferrules. Solder all joints and tape with electrical tape or heat shrink.
Soldered joints last forever. Unsoldered joints will cause problems when the twisted joints oxidise. Electric current will not pass through corroded or hot connections and will cause a fire.
Hot Joints in Caravan Electrical Connections and Fire
Quite often, installing new lights causes the tow vehicle to flicker. Flickering is a severe problem as the onboard computer will report the problem to your dash.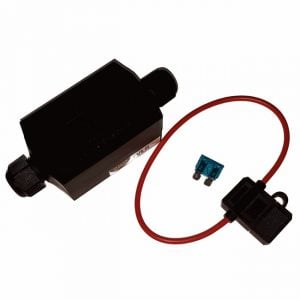 Installing an ECU to bypass the vehicle computer fixes flickering indicator light problems. Purchase ECUs here
The onboard computer measures resistance, wattage and voltage drop to the newly installed lamps. It is quite likely the new lamp, and cabling resistances fall outside the computer specifications.
The best remedy used by many tow bar installers is to install a new ECU (electronic control unit) to control the LED light kit.
Finally, in 100% of cases, installing the ECU fixes problems with flickering vehicle lights.