International Orders
International Orders from Couplemate for Australian trailer parts and other air cargo, are dispatched daily via Australia Post Express.
Australia Post uses Qantas Freight exclusively as its international freight carrier.
Enquires to our main email address could be automatically categorised as unsolicited mail. Please contact the email address below for larger orders and best prices.
Purchasers wanting prices for bulk international orders, please contact christopher.assaf@couplemate.com.au for a quote.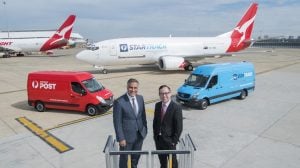 Customers receive International air waybill via three services only.
Air Express Intl Post – 3/5 Days – Tracking
Air Express Intl Post – 5/10 Days – Tracking
Intl Air Post – 10+ – No Tracking
Please be advised, shipping times may vary in the current COVID-19 climate.
Popular countries we service are New Zealand, UAE, Ireland, the United States, Canada, the UK, Europe and Dubai.
Prices can be as low as $15 for 2kg to New Zealand.
Commercial Invoices are provided with each purchase.
Maximum weight for orders is 20kg per box.
Enter your address details to obtain an accurate freight price.
Should you have a problem obtaining a price on freight, contact us at sales@couplemate.com.au and we will look a the error. Please provide a screenshot.
Image courtesy of Australia Post and Qantas.
This international shipping service provided by Australia/Qantas Freight was a result of their new relationship in 2018.