Off-Road Independent Coil Suspension
Trailers, Campers & Caravans
Couplemate™ Off-Road Independent Coil Suspension (ICS) is purpose-built for challenging terrain, including sand and dirt roads, rock crawling, and extended corrugation travel. Our engineers have prioritized strength in this design, making it the top choice on the market for upgrading your off-road toy hauler, boat trailer, or work trailer.
Heavy-Duty Coil Springs
Coil springs are popular in off-road trailer independent suspension due to their smoother ride quality, increased strength, and compact design, while also being highly durable. These factors make them well-suited for handling rough Australian terrain.
Couplemate™ ICS shocks are precision-engineered to complement our Independent Suspension, unlocking peak performance.
Dual Shock Absorbers
Dual shocks on Independent Coil Suspension systems improve stability, reduce vibrations, and enhance control, leading to safer and smoother towing. They also extend component lifespan and provide better support for different load requirements and driving conditions.
Your Choice of Brakes
While the Couplemate Independent Suspension is commonly paired with 12″ Electric Drum brakes, we believe in offering you the freedom to choose what suits your needs best.
Every man and their trailer is different. So, whether you need Hydraulic Disc or Electric Drum, 10″ or 12″ brakes, the choice is yours!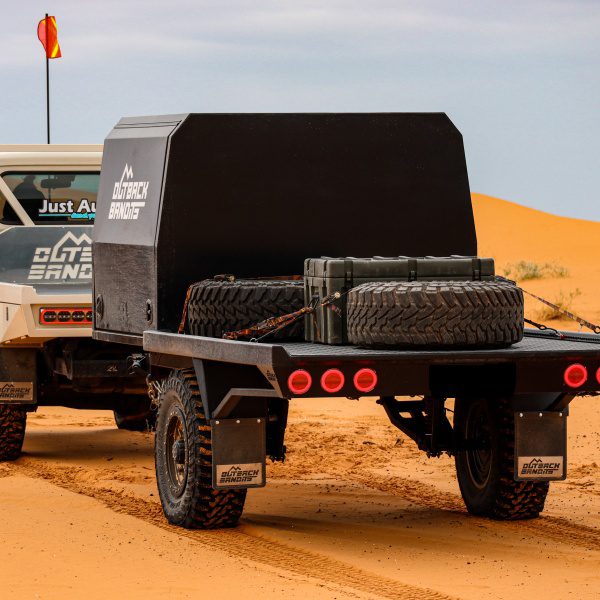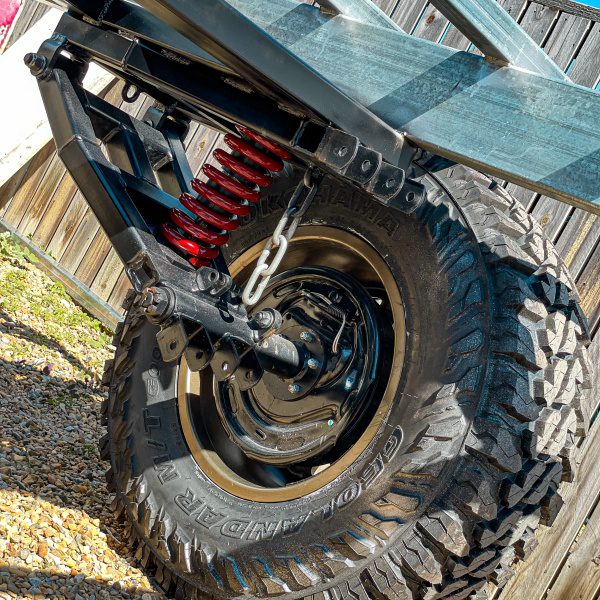 Increased Ride Height
Clearance is vital in off-road towing to enable vehicles and trailers to navigate diverse terrains, maintain stability, and prevent damage from obstacles. It ensures proper ground clearance, weight distribution, and maneuverability, enhancing safety and performance in challenging off-road conditions.
Choose from three ride heights with Couplemate™ Suspension for superior control of your ideal trailer.
Better Strength & Durability
Strength relies on rigidity. While many Independent Suspensions rely solely on a bottom frame trailing arm, the Couplemate™ ICS redefines independent suspension by introducing a top frame. This innovative design fortifies the frame, delivering unmatched durability and resilience in the harshest conditions.
With the added emphasis on strength through the top frame, your ICS ensures zero camber movement. This is important, as it prevents premature wear on your inner or outer tyre.
Built from certified Australian steel, you can be confident that your trailer is supported by a robust foundation.
Australian-Made Quality
All Couplemate™ Independent Coil Suspension systems are proudly manufactured in Brisbane, Australia. Every individual component undergoes rigorous Quality Control to ensure that you receive the best product possible.
Suitable for DIY Trailers
At Couplemate™, we are committed to empowerment. Every Independent Coil Suspension will come with a comprehensive Installation and Alignment guide, of which was meticulously crafted by our Engineering and Production departments.
Whether you're looking for a home project, or have a trailer fabricator in mind, the Couplemate™ ICS offers unmatched reliability and versatility, making it the ideal choice for your suspension needs.
Ride with Confidence
Innovation, Quality, Experience. These are the pillars of Couplemate™, powering our market edge. With years of expertise, rigorous testing, and relentless development, a Couplemate Independent Coil Suspension delivers confidence.
Know that your off-road trailer can conquer anything.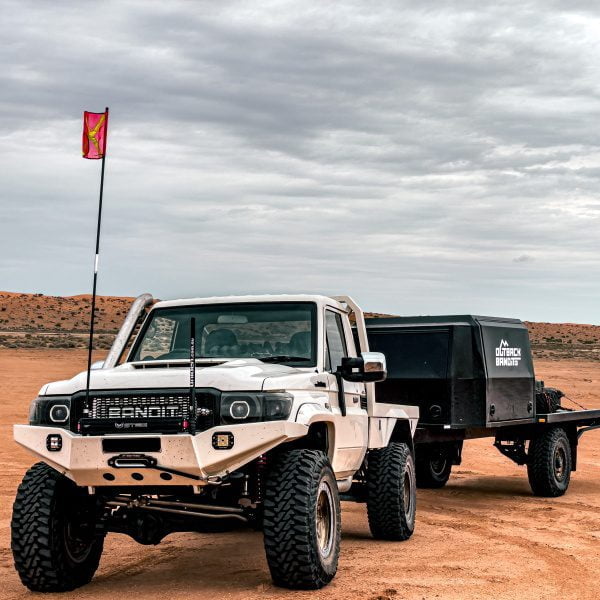 Frequently Asked Questions
Minimum & Maximum Weight Capacities
Australian Design Rules (ADR) stipulate that your suspension should be rated at least 20% higher than the actual weight you intend to tow. For instance, if your towing load is approximately 2000kg, it is advisable to opt for a suspension system rated at 2250kg.
It's important to note that the minimum trailer weight requirement for the installation of a Couplemate™ Independent Coil Suspension is 1250kg. This ensures the proper functioning and safety of the suspension system.
Installing on Steel/Aluminium Chassis
The frame of our Independent Suspension system is constructed from high-quality Australian BlueScope steel, ensuring exceptional strength and durability. If you intend to attach it to a steel chassis, welding is the recommended method for secure attachment.
Alternatively, if you are considering an aluminium chassis, bolting the Independent Suspension system is a perfectly viable option. One of our previous Instagram partners achieved excellent results by bolting our Independent Suspension onto their boat trailer chassis, which you can see in this link.
Tyre & Mudguard Clearance
The Couplemate™ Independent Coil Suspension, a type of trailing arm suspension, is renowned for its exceptional performance. We take pride in tailoring each Independent Coil Suspension system to precisely match the requirements of your trailer.
As your suspension progresses to the production stage, our dedicated team will require additional details regarding your rim and tyre specifications, mudguard clearance, and wheel clearance. If you are unsure about these specifications, your designated team member will be available to assist you in determining the most suitable options for your needs.
Maintenance Guide
One significant advantage of opting for an Independent Coil Suspension (ICS) system is its reduced maintenance requirements compared to traditional spring and beam suspensions.
The primary maintenance tasks for the Couplemate™ ICS system include:
Ensuring that the axle nuts and frame nuts are properly tightened.
Lubricating the bushings to keep them adequately greased.
Regularly inspecting and tightening bolts.
Checking the condition of nuts and bolts.
Inspecting the spring coils for any cracks and replacing them as needed.
Verifying the integrity of the welding for any signs of damage or defects.
By addressing these maintenance tasks, you can ensure the continued smooth operation and longevity of the Couplemate™ ICS system while benefiting from its lower maintenance requirements compared to traditional spring and beam suspensions.
Warranty & Support
Our commitment to you goes beyond a single transaction. At Couplemate™, we are dedicated to providing ongoing support throughout your off-road journey.
We're here to answer any questions, queries, or advice you may need. Our team members are available from Monday through Friday, 8:00 a.m. to 5:00 p.m.
Very helpful, friendly staff.
Took the time to explain everything in detail and check over our trailer to ensure the products were going to be right for us.
Excellent customer service and super quick delivery. Special mention to Josh who did his best to assist me.
Thank you Couplemate!
These guys know their stuff when it comes to trailers. Caitlin and Bruce knew the parts I needed just from a few photos and everything was present and correct when collected. 
Get Your Quote
Thinking about upgrading? Let us do the work and get you an accurate quote today.
Off-Road Independent Coil Suspension
Fill out the details and one of our expert team members will be in contact with you.
"*" indicates required fields