Description
Caravan shock absorber kit by Couplemate is a favourite premium caravan shock absorber kit used on Jayco, Coromal and all modern caravans in Australia.
The caravan shock absorber can often be difficult to locate because they are popular where stock moves quickly. Couplemate is the manufacturer and carry good stocks of shock absorbers and can ship immediately upon your order reaching our desk.
The caravan shock absorber kit dampens the energy from rough roads that otherwise would travel through your caravan.
Caravan shock absorbers do not carry any load. The popular myth caravan shock absorbers take some weight, is false.
Our best guess is 30% of shock absorbers will fail within five years of purchase.
Note: The caravan shock absorber is not suited to off-road use due to the short stroke required by caravans used in highway mode.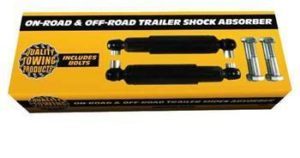 Caravan Shock Absorber Installation
Your shock absorbers should be installed 90 degree's to you spring travel. In most, this is 15 degree to vertical.
Install on an axle of 15 degrees to the vertical and about 300mm length or 1/2 open.
We cyclic test every batch of trailer shock absorbers to destruction to support the best quality of your equipment.
Worn parts, parts rubbing together, loose nuts, worn utensils, etc. are all signs of a trailer without a caravan shock absorber.
Why are caravan shock absorbers important for your trailer?
Do you remember Henry Ford? Ah yes, I thought that name would ring a bell.
Ole Henry never put shock absorbers on his cars until he got sick of the rough ride. He also needed to sell more cars.
A funny thing happened when Henry put shock absorbers on all his cars, he sold and sold and sold more cars.
Henry sold so many cars that all the world car manufacturers now put shock absorbers on their cars.
We reckon your caravan needs them too.