Whether you're on holiday around Australia or just taking your boat to the beach, inspecting your trailer is an essential first step in your journey. If you have a holiday coming up, now is the best time to start your preparation. Rather than waiting last minute, our team has put together a checklist to help guide you when checking your box trailer, caravan, camper, or boat trailer.
---
CHECK YOUR AXLE
Axle Integrity
On a traditional graduated leaf spring and beam setup, the axle forms a core component of your trailer. Before every trip, we recommend checking for signs of damage, wear, or rust. Particularly, pay close attention to the axle bearing surfaces where your bearings, hubs and wheels will mount.
The image to the right shows damaged bearing surfaces.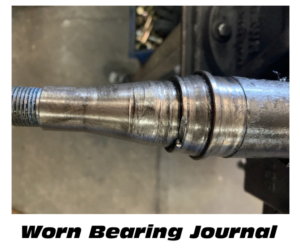 Bearings
In general terms, trailer ratings are a function of their weakest component, which often translates to bearings. The most common types of bearings are Ford/SL [68149/12749], Holden/LM [67048/11949], and Parallel/Land Cruiser [68149/68149].
If your trailer or caravan is regularly used, a good rule of thumb is to replace bearings once every year. If you get your trailer professionally serviced, bearings will often be one of the components that are replaced. Between servicing, however, we recommend that you assess your bearings every 5 000km.
If worn or damaged, replace them with new components and ensure you use appropriate grease. Otherwise, new grease might be all you need depending on the condition. Couplemate™'s best advice has always been, "You don't want to learn how to replace bearings on the side of a highway. Not checking your bearings before you leave can turn a holiday into a potential horror story."
See Simplicity Bearing kits here. 
---
CHECK YOUR SUSPENSION
Graduated Leaf Springs
As graduated springs age, often we find that they start to yield, which presents as the spring "flattening out" – impacting the quality of your suspension and your braking performance. This is often due simply to the loads applied to it during its service life of the spring, they reflex while suspending your trailer chassis above the road surface. If you're experiencing excessive transverse roll as you tow your pride and joy down the highway, it may be that a common remedy, such as replacing flattened springs, will fix your caravan's roll.
Flatten springs aren't the only issue to look for! We recommend an inspection that includes checking for signs of wear, rust, or general damage. Similarly, inspect each graduated leaf for cracks hidden by dirt. Replacing your springs may be the best solution if you see an issue. Spring selection is crucial, so if you have any questions, contact our team at Couplemate™ for advice.
» FYI: Ensure that the spring centre pin does not protrude past the axle locator when replacing your springs. This common and serious oversight often manifests when caravan/trailer owners convert from an under-slung axle into an over-slung axle.
Shock Absorbers
For caravan and trailer owners looking to chase the sunset long into the horizon, you may opt to add shock absorbers to your suspension. Shock absorbers allow for a smoother ride by increasing the time your springs contract and expand as the load increases and decreases during normal service life. The benefit of adding shock absorbers not only offers a more comfortable towing experience but also assists in ensuring your springs give you an honest and full-service life!
Most people will know when to replace their shock absorbers just from their most recent towing experience, as the motion of the caravan sees an increase in rolling activity, and braking performance begins to degrade. Things to look out for include any physical damage, such as cracks to the cylinder of the shock or evidence of leaking fluid through the seal are sure signs of worn shock absorbers.
Spring Bushes and Hangers
We often see customers needing new bushes for their springs, usually prompted by an impending road-worthy inspection. Bushes are a vital part of your suspension system. They provide a service wherein they are intermediary material that will wear deliberately during their service life, avoiding premature wear of your springs and bolts. Couplemate™ manufactures bushes from high-density polyethylene, making them robust but also softer than the spring and bolts they are in service to protect! We suggest checking your bushes every 10,000km. We have 60mm Outback Spring bushes available, and we have 60mm Brass spring bushes, too.
Always remember, your spring bushes are in place to work for your springs and bolts, so make them work! If the bush in your spring is a nylon, HDPE, or another plastic type bush, there is no need for a greaseable bolt. If your bushes are steel or alloy, use a greaseable bolt, as these bushes will not dissipate heat quickly.
U-Bolts
U-Bolts are critical to trailers as they bind your axle and leaf-spring suspension. Here at Couplemate™, our colleague Steve often writes articles on Loose U-Bolts and how they can cause disaster. In many circumstances, U-Bolts are overlooked during caravan and trailer checks, despite their importance in your suspension system.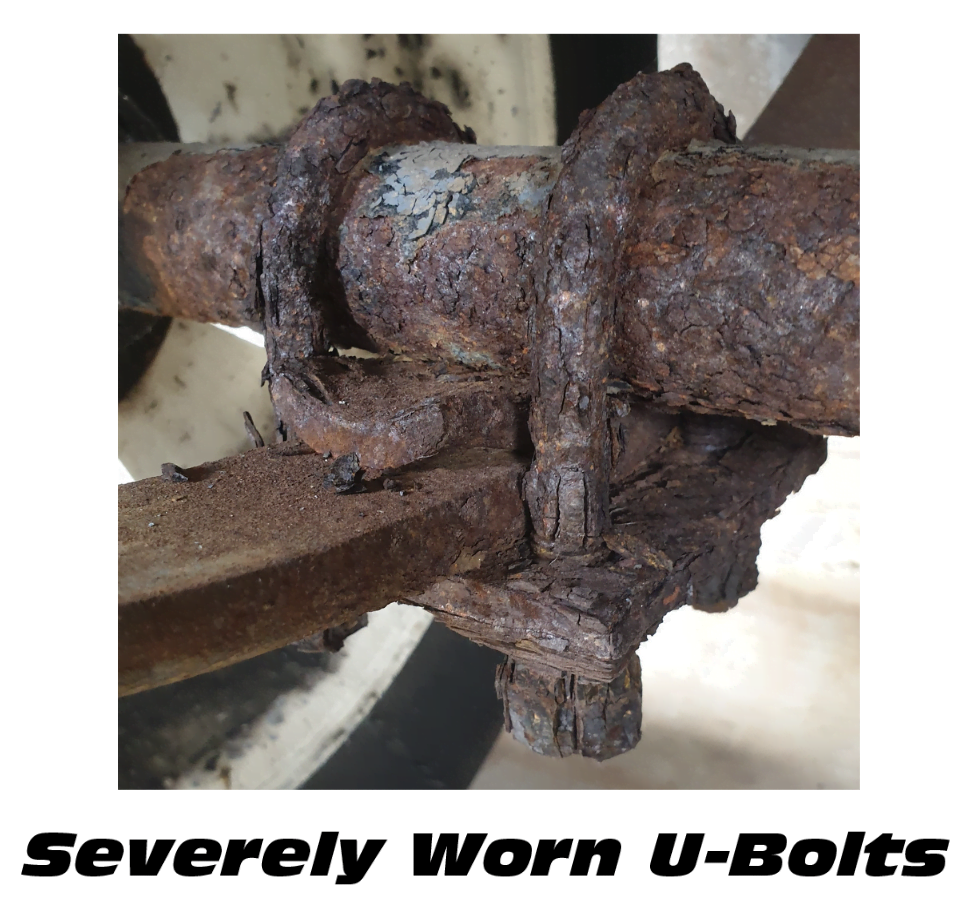 Before every trip, we recommend checking your U-Bolt condition for signs of damage, wear, rust, and cracks. These components are consistently under torque pressure, exacerbated as they work with your suspension system.  Likewise, checking the condition of your fish plate for damage and wear is worthwhile.
» FYI: Always remember, your U-bolts mount your axle, and your Fishplates space your spring!
We recommend tightening your new U-Bolts after 250km, periodically checking, and tightening them once every 1000km is considered the industry's best practice!
Independent Suspension
If you have an independent suspension system, check for damage, wear, cracks, and rust on the frame. Importantly, ensure you inspect all bushes, particularly bushes fitted at the forward hinge of your independent suspension.
If you have a coil suspension, we recommend checking the height of your coil springs – they will compress/sag towards the end of their service life, and travelling with sagging coil springs will adversely affect your suspension and braking performance. Ensure your bolts are correctly torqued; refresh grease and remove any containments where appropriate.
---
CHECK YOUR BRAKES
Electric Drum Brakes
Inspecting your electric brakes before any trip away is an integral part of your pre-departure checklist. An inspection may suffice if you're regularly travelling with your caravan, but at least every 10,000km or 12 months, ensure you service your drum brakes. This includes inspecting the lining of your drums for heavy scoring or wear, checking your brake shoe condition and remaining thickness, and replacing worn backing plate fitments as needed.
The electric backing plate is not isolated from the suspension, meaning that dust and foreign matter can enter the drum and cause damage. This can inhibit braking performance, Couplemate™ advises cleaning the inside of the drum periodically. If you notice that the inside of your drum has a shine or mirror-like reflection, buffing the surface with emery paper is a viable way to restore the inner drum surface and brake shoes.
Brake magnets are a common component to wear, especially if trailer and caravan owners drive through Off-Road conditions. The image is an example of the difference between a new and a worn magnet.

Disc Rotors
As with brake drums, an inspection of your rotors may suffice if you're regularly travelling with your caravan, but at least every 10 000km or 12 months, be sure to complete full service. This includes checking the integrity of your calliper, brake pads, bolts, pistons, and any handbrake attachments. If you see signs of degradation, wear, or damage, replace them with new components.
When you have hydraulic components, checking your hydraulic fluid is essential. Every 20 000km or 12 months, Couplemate™ recommends flushing your hydraulic system. Be sure to purge the system once your new fluid has been poured into the reservoir and bleed the system to avoid air bubbles that may cause a hydraulic lock. While at it, inspect the integrity of your wheel and master cylinders if fitted and ensure there is no leakage.
Q. WHAT IF I HAVE NO BRAKES?
Trailers rated for 750kg and under are often unbraked and have 'lazy hubs.' Checking your lazy hubs for damage or wear is still very important; bearing grease, axle condition and spring condition should not be overlooked just because your trailer isn't fitted with brakes.
Q. WHAT IF I WANT TO UPGRADE/CONVERT MY BRAKES?
Different options are usually available for people wanting to upgrade or convert their braking system. Depending on your aggregate trailer mass and your use of the trailer, you may want to convert from an unbraked trailer to a braked trailer. People often want to add or convert to Electric Trailer Brakes with slimline bearings in these cases.
» FYI: We recommend contacting one of our sales representatives directly for personalised advice.
---
CHECK YOUR PERIPHERALS
Safety Chain
Safety chains are an essential part of keeping others safe on the road. If your trailer ATM is 2.5 tonnes or under, there must be at least one safety chain attached. Trailers up to 3.5t must have two safety chains attached. In all cases, safety chains need to comply with AS 4177.4. A large part of this standard includes appropriate markings on the chains.
Depending on the weight of your trailer, we recommend the following sizes:
6t to 2.5t – 10mm chain
5t to 3.5t – 13mm chain
5t and above – a Herc Alloy G80 chain
It's not just the safety chain you need to check but your hammerlocks, bow shackles, D-shackles, and holder attachments. As part of the Trailer and Caravan Checklist, we recommend checking these before every trip. Remember to replace these when you see signs of wear or degradation!
Coupling and Handbrake
The coupling is the vital link between your tow vehicle and trailer. Our most common coupling types are 50mm ball, pin, and ring-type couplings. We recommend checking your coupling periodically, including the inside and outside of the coupling ball or pin cavity, to ensure that the double-locking systems are fully functional and there are no signs of wear. This is an essential part of the Trailer and Caravan Checklist.
Ensure your tow ball or pin has been appropriately torqued (the ball manufacturer will be able to provide you with this setting). Also, inspect the adjustment bolt if you have a ball-type coupling; this bolt appears either at the front of the ball cavity, the rear of or at the side of the ball cavity. We recommend tightening the bolt using a flat screwdriver until the bolt is firmly pressing onto the ball top, then loosening the bolt one rotation back and tightening the locking nut should set the coupling correctly.
Finally, the handbrake is a simple component often forgotten in your Trailer and Caravan Checklist. Before you leave for your holiday, ensure that your handbrake lever works and is disengaged before you embark.
See our 50mm Tow Bar Receiver Hitch Kits here. 
Jockey Wheel or Jack Stand
Jockey wheels and jack stands are crucial components of your trailer and caravan. Signs of wear can include resistance on winding, grinding, or free movement as it collapses or extends. Make sure you check the wheel, where one is installed, to ensure it is free of cracks, flat spots, or missing material in the tyre. Finally, ensure you check the handle is attached and functional.
If you have a clamp, ensure that the mount is securely attached to your trailer (particularly if held by U-bolts).
» FYI: Jockey wheels and jack stands are rated with a Static Load Capacity (meaning fully compressed and stationary). As the component is extended, its weight capacity will drop. You should raise the jockey wheel enough to remove the coupling from the ball and immediately lower the component. Jockey wheels should never be used to manoeuvre a trailer when extended, as this poses a high risk of failure.
Wheels and Wheel Nuts
We recommend inspecting your wheel rims every 5000km or six months for dents, damage, or loose components. We also recommend checking tyre air pressure daily.
As a guideline for your Trailer and Caravan Checklist, we recommend tightening your wheel nuts to proper torque specifications every 5000km or 6 months. One easy way to monitor your wheel nuts is through wheel nut indicators. Though often used on trucks, these indicators are practical for long-distance trips with your caravan and camper trailer.
---
FINALLY, CHECK YOUR TOW WEIGHT
The mass of your trailer and vehicle is everything! All the braking and suspension components are predicated on these crucial numbers. Ensure you are conscious of what weight they are towing and whether that weight is suitable for your tow vehicle and trailer suspension, braking, and coupling systems.
Importantly, how you distribute weight on your trailer can influence your towing experience and safety. Where possible, we recommend packing the heaviest items over the axle group or forward of it toward the front of your trailer. A general rule of thumb is that 60% of the overall weight should be in the front half of your trailer, with 40% of the weight in the rear.
Up to 10% of your axle group capacity can be applied as load vertically onto the mechanical connection between your trailer coupling and the vehicle receiver. If you have a ball coupling, a straightforward way to measure the weight on your tow ball is through a Tow Ball Weight Scale.