Pintle Tow Ball Protector
The pintle tow ball protector is a safety device that suits Couplemate combination pintle hooks with 3.5t tow balls.
This protector fits only Couplemate combination pintle hooks with the Gold Head.
The gap between ring coupling and tow ball can vary by up to 30mm between pintle hook brands. As a result, forces occurring during acceleration from a stationary position cause damage to the tow ball.
The ball protector acts as a cushion or dampener to remove most of the impact of towing equipment during acceleration. No more broken tow balls.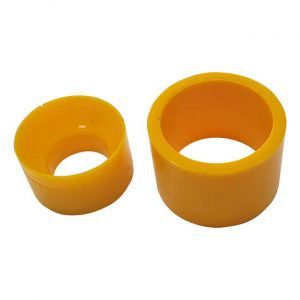 The ball protector has two parts
Part A:  wraps around the tow ball
Part B:  locks Part A and is designed to strengthen the tow ball wrap.
Please note: The tow ball protector may need replacement due to wear and tear. It is a good idea to purchase a spare to keep in your glove box.
75mm Ring Couplings has a ring diameter of 41mm. In many cases, the gap between the ring and the tow ball exceeds 20mm. Measure the distance of the cavity between the rear of the coupling and the back of the ball.
In many cases, without a pintle ball protector, the ball may become damaged or may snap during hookup.
Please note: Pintle Hook not included.
Compatible with these combination pintle hooks.
Couplemate Trailer Parts reserves its intellectual Property rights and designs of the Pintle Hook ball protector.
This device is made in Australia.
Please note: The horn on the pintle hook should be closed when not in use. Vibration from the road can cause the polyurethane ring to move upwards and dislodge from the device.
Pintle Tow Ball Protector
Additional information
| | |
| --- | --- |
| Weight | 0.1 kg |
| Dimensions | 6 × 6 × 6 cm |