Description
3.5t Al-ko® Off-Road Coupling rated 3,500kg
3.5t Al-ko® off-road coupling is rated at 3500 kg. The Alko® coupling offers a lower profile ball than most other off-road couplers.
In addition, Alko® offers a low profile park brake that can be purchased here. It should be used with 619150P as standard park brake plate fouls on the nut.
Retrofits to existing caravans and camper trailers. This offroad trailer coupling has a dual locking system.
Snap locks closed
R Clip or lynchpin acts as a double lock to help prevent accidental unhitching from the tow vehicle.
Caravan owners with low rear doors rate this low profile this Al-ko coupling design as one of the best couplings on the market.
International sales welcome. Daily dispatches via Australia Post Air Express.
3 off-road coupling models
2.0 Tonne fixed, (not commonly used as it is a similar price to the 3500kg model)
3.5 Tonne fixed and
2.0 Tonne Override
Featuring 360-degree head articulation and a positive tow ball latching system is ideal for extreme off-road adventures. The Al-ko® Off-Road Coupling is easy to fit and requires no difficult pin or hole alignment.
The new AL-KO® Off-Road Ball Coupling incorporates extreme vertical and horizontal articulation as well as a quick & easy hitching design that requires no pin or hole alignment. We took to the Victorian High Country to push it to its limits through all sorts of off-road terrain.
We choose Al-ko® International because of their high-quality materials designed and high-quality running gear range including axles brakes,
Fatigue tested to 2 million cycles; the Al-ko® Off-Road Coupling is available from all good trailer parts and off-road trailer retailers.
Taking about fatigue, vibration fatigue is a good reason you need shock absorbers. Read here.
Trailer Locks are be purchased here.
Al-ko® Off-Road Coupling
Huge 360-degree Articulation
Fully Compliant to Australian Standards
User-friendly, fits standard 50mm tow ball
Head height is approximately 125mm from top of the tongue to the top of the high shoulder tow ball.
Corrosive Resistant
Zinc plate or Dacromet plated components
Unique, attractive design
Fatigue tested to 2 million cycles
Self-lubricating head pivot bushes
Standard mounting hole positions
Positive ball latching, incorporating high impact PolyCarbonate ABS handgrip system
Developed and engineered in Australia for harsh Australian conditions.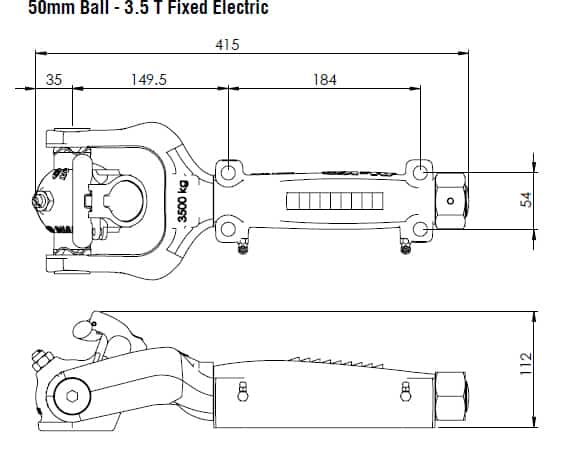 Finally, consider the following when selecting a coupling:
Type of brakes used?
What is the maximum total loaded weight of the trailer planned to be?
Can I use a 50mm ball or do I need a ring-type attachment?
High Shoulder Tow Balls
Extreme angles can cause the Al-ko® off-road coupling to contact the tow hitch causing damage.
Consider a high rise tow ball to give extra clearance over the heavy ground.
Al-ko has a great article about this product here
Finally, Al-ko® Fitting and Warranty information
Couplemate Trailer Parts sells only the best quality 3.5t Al-ko® Off-Road Coupling and caravan spare parts throughout Australia.
Customers are welcome to either pickup or take advantage of our low freight rates. Express shipping to Melbourne, Sydney, Brisbane, Perth, Adelaide, Darwin, and Hobart.
We also ship products to New Zealand via Australia Post Air Express.
© Steve Wotherspoon September 3, 2014. Images and text may be copied, provided a link back to the copied page and the source is displayed where the content or image is located.