G80 Truck Trailer Safety Chain Holders | 8500kg (8.5t)
At Couplemate™, we understand that safety is a top priority. That's why we've developed the 8500kg G80 Truck Safety Chain Holder, a premium quality product that ensures your trailer is always secure and stable on the road.
This product is especially good for truck owners who need a reliable safety chain holder that meets Australian safety standards.
This product is also suitable for caravans and general-purpose trailer owners who have a DO45 or need to tow 4500kg (4.5t).
You can view the G80 chain here, "10mm G80 Truck Safety Chain | 3500kg – 7200kg."
Product Specifications
Materials: K1054, K1040
Coating: Black ElectroGal
Capacity: 8500kg (8.5t)
The product is sold as a pair. Holders can be welded on both the drawbar (trailer side) and the tow bar (vehicle side).
For welding instructions, refer to the picture below.
CM545 Installation Instructions
Welding plays a crucial role in safety. Incorrect or unprofessional welding causes dangerous situations.
When installing the CM545, the minimum weld size is 5mm on all sides. Installation orientation of the CM545 must be as per below.
Drawbar Attachment: Weld safety chain holders directly to the trailer chassis rail as close as possible to the coupling.
Aluminium Trailers: Weld the chain holder to a plate then bolt the chain holder to the trailer via four high-tensile bolts.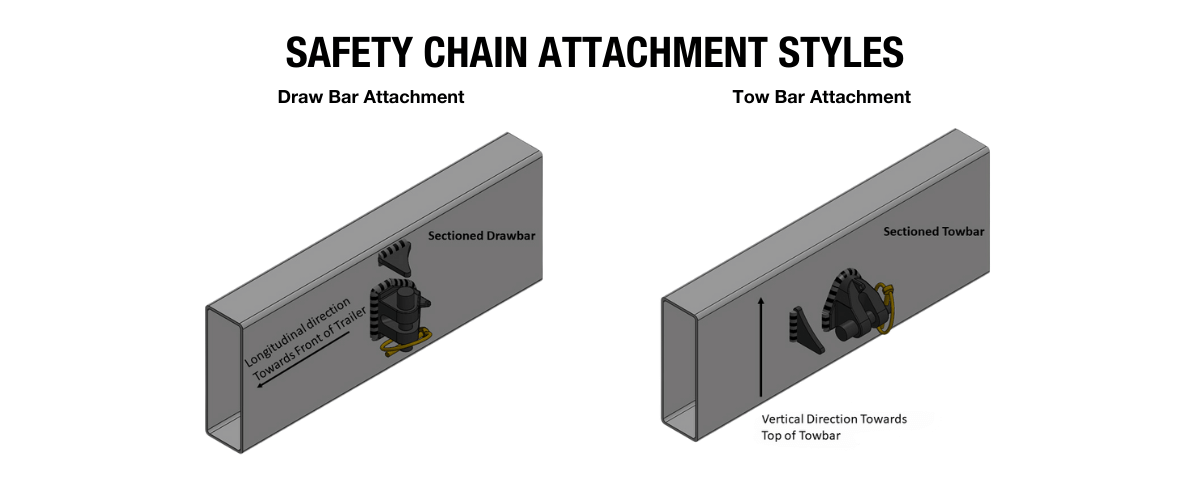 4500kg Application
For up to 4500kg ATM, the mounting material must be a minimum of 3mm thick, minimum C350 Section or equivalent.
8500kg Application
or up to 8500kg ATM, the mounting material must be a minimum of 5mm thick, with a yield strength greater than 250MPA. The Tensile strength must be greater than 410 MPA.
ADR Approved & Certified
The Couplemate™ CM545 G80 Truck Safety Chain Holder (8500kg) is manufactured in accordance with and tested to AS4177 and ADR 62/02.
To view/download the Product Specification Sheet, click here.
What is G80?
G80 steel stands as a formidable high-strength alloy, serving diverse applications like lifting chains, springs, and knives. With impressive tensile strength, it has exceptional resilience without fracturing.
Moreover, G80 steel showcases remarkable resistance against wear and corrosion, ensuring prolonged durability and reliability in its various implementations.
---
Related Towing Products
Towing Capacity: 4500kg
Material: Cast Ductile Iron (500/7)
Available in both 50mm and 100mm drops, and features a powder-coated finish for added resistance against corrosion. This is your ideal choice for use with campers, caravans, and boat trailers.
Expertly cast, machined, and tested right here in Australia.
Towing Capacity: 6000kg
D-Value: 47.5kN
Heavy-duty ring coupling suitable for applications up to 6000kg (6.0t).
Using the standard Australian bolt-hole pattern, the CM255 coupling can be installed easily on any pre-existing trailer.
Additional information
| | |
| --- | --- |
| Weight | 2 kg |
| Dimensions | 15 × 10 × 8 cm |
| Chain Holder Size | |