Stub Axles to suit Dexter, Al-ko, Aussie Swag, Drop and Overlays.
Stub axles are found in motor vehicles' front and rear wishbone suspension.
However, car trailers, caravans and campers also use stub axles to lower the centre of gravity.
Couplemate manufacture a wide range of stubs for caravans and trailers.
Further, walso manufacture specialised stub axles to insert into hollow square tubes.
The length of the stub varies according to rim and tyre offset.
This style of axle provides a lightweight solution where trailer weight is critical.
Bruce Day below provides a great explanation of how to calculate wheel backspace.
Multiple bearing sizes are available for a variety of stub profiles, including:
Dexter 1.6t
Dexter 2t
Al-ko 2t and 3t
Holden Standard LM
Ford Slimline
Ford Parallel
2t Cruisemaster
and individual suspension stub sets.
The overlay axle drops the height of the trailer.
Couplemate manufacturer an extensive range of stub axles. The image below is a speciality drop axle for an independent suspension system on caravans and campers.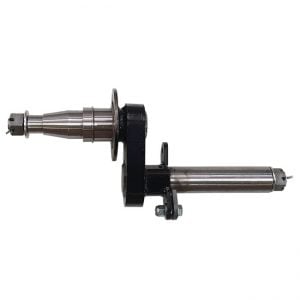 Recently we have had a large number of enquiries to produce independent suspension axles.
This type of axle is also the most difficult due to the exactness of the camber for each axle.
Manufacturers are moving away from the simple weld on axles, preferring to insert machines axles into a sleeve.
Finally, sleeved axles are replaceable, making camper and caravan replacements and upgrade a reality.