Premium Electric Trailer Brake Conversion Kit
---
Electric trailer brakes are a type of trailer braking system that uses electromagnets to apply the brakes. They are the most common type of trailer brake system in Australia!
The premium electric brake conversion kit is designed to convert unbraked or disc-braked trailers into electric-braked trailers or campers. These conversion kits aim to deliver the utmost braking performance, featuring top-notch backing plates and bearings, all complemented by locally produced drums.
Couplemate™ 10-inch Conversion Kits are available in multiple stud patterns, such as 6-Stud Landcruiser and 5-Stud Ford. For increased 4WD performance, you can upgrade to Off-Road Brakes.
Customers frequently opt for a conversion kit when doing maintenance on their trailer brakes, as it provides a comprehensive solution for rejuvenating old caravan brakes, offering a fresh start for their braking system.
Key Benefits of Electric Brakes
When looking for electric brakes, it is essential to consider quality when looking to invest in your caravan or trailer.
So, what makes electric brakes worthwhile?
More effective than other trailer brakes, such as surge brakes.
Better flexibility, as they can be used with various tow vehicles and trailers.
Easier to install and more convenient to maintain.
N.B. Electric trailer brakes require a brake controller. Most Australian states require trailer brakes to be activated using a brake controller within the tow vehicle.
What Makes Couplemate™ Brake Drums Superior?
---
Our engineers successfully addressed a critical issue known as "porosity," which was a major contributor to braking inefficiencies.
Porosity refers to the presence of small holes within a casting, which leads to reduced adhesion of brake shoes. In essence, a porous surface exhibits lower braking resistance compared to a non-porous surface.
The most effective method to eliminate air from steel is analogous to expelling air from concrete. By subjecting the tooling containing a drum casting to shaking or vibration, we effectively eliminate air bubbles, significantly reducing the occurrence of porosity.
Furthermore, our skilled craftsmen meticulously scrutinise the machining process for any signs of porosity. When identified, drums are promptly rejected, discarded, and sent back to the furnace. This stringent quality control ensures that the drums you acquire have undergone rigorous testing and inspection processes, guaranteeing their performance and reliability.
Conversion Kit Contents
---
The Couplemate™ Conversion Kits are designed to be an easy way to convert your current axle into an electric-braked axle.
As such, this kit will come with everything you need to get the job done:
2 x 10" Brake Drums
Your choice of stud pattern and thread type.
2 x 10" Electric Backing Plates
Your choice of Standard or Off-Road. Includes 7/16" Nyloc nuts.
2 x NSK Bearing Kits
Your choice of Slimline or Holden. Includes inner bearings, outer bearings, seals and dust caps.
2 x Weld Rings
Your choice of square or round.
10/12 x Wheel Nuts
Number of nuts supplied correlates to stud pattern.
How To Select Correct Parts
---
Bearing Profile
This information is sometimes outlined in your owner's manual or is kept on file by the original caravan/trailer manufacturer. However, we find that most customers resort to a hands-on approach.
To find your bearings, you will need to separate your hub from your axle and pull out both bearings. Quality NSK bearings will always have their bearing number engraved on them, as shown in the example image.
Holden LM Bearings (750kg)
Inner Bearing:

LM67048/10

Outer Bearing:

LM11949/10
Ford SL Bearings (1450kg)
Inner Bearing:

LM68149/10

Outer Bearing:

LM12749/10
Axle Weld Rings
Firstly, examine the bearing profile to determine whether a marine or electric turn weld ring is required for your axle.
Not sure? Measure from the tip of the axle to the back shoulder.
Electric Turn: 128mm
Marine Turn: 115mm
If you have a marine turn, use square. If you use an electric, use round.
View Electric and Marine Axle Profiles 
Stud Pattern & Stud Thread
Understanding your Stud Pattern (PCD) is crucial when buying spare parts, as this ensures your new drum will fit your existing trailer wheel.
The best way to work out what stud pattern you have is by measuring from stud centre to stud centre on the two closest studs (see "S" on the diagram). Once you have this measurement, you can use our Stud Pattern chart (available here) to work out your PCD.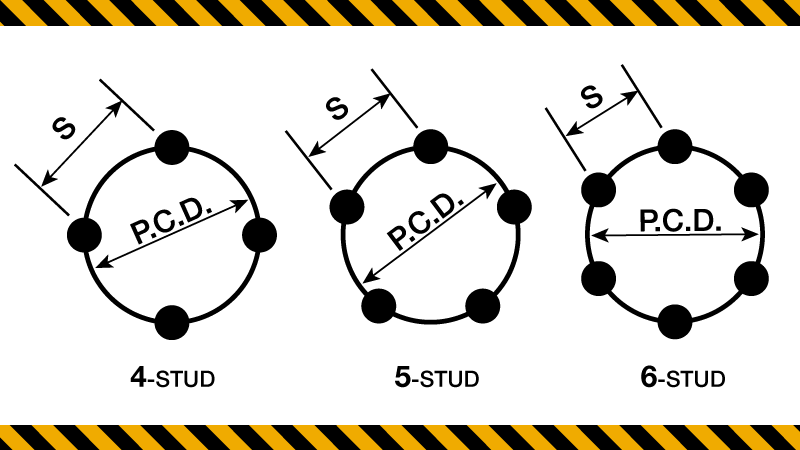 Alloy & Mag Wheels usually use metric studs (M12, M14), whereas most steel wheels will use imperial studs (UNF).
How To Install Electric Brakes
---
Method One
When fitting your electric weld ring, ensure pressure against the rear shoulder and quickly tack the four corners. You are now ready to weld the weld ring into place.
Couplemate uses a tool to firmly secure the weld ring onto the axle shoulder before tack welding.
Method Two
Bolt the weld ring to the backing plate
Slide the backing plate onto the axle
Install the drum onto the axle and tighten it (no grease in the bearings at this stage).
Pull the backing plate into the drum and tighten the brake shoes to engage the drum firmly.
Tap the backing plate so it is Concentrix with the drum
Tighten the shoes against the drum firmly
Tack the backing plate on the four corners
Remove the drum
Finally, finish the weld and repeat at the other end of the axle.