4WD Replacement Swing Away Spare Wheel Carrier
A replacement rear 4WD spare wheel carrier is a swing away flangeless hub that includes a bearing kit (no spindle).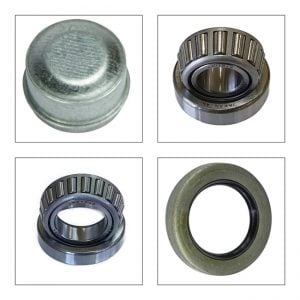 Couplemate manufacturers swing away wheel carrier hubs from high-grade Australian steel to produce a quality product in the following bearing profiles:
You may be interested to learn that 2t and 3t kits are often used on wind farms to swing our equipment to be lowered and on mining sites for swing-out hoists.
The 4WD swing away spare wheel carrier often needs to be replaced because the weight is too much for the bearings. This results in assembly collapse. If your construction has collapsed, replace it with the non-bearing type carrier.
Caution: 4WD Swing Away Carriers
We recommend using a 45mm Slimline or 45mm Parallel model due to the added load caused by the fulcrum effect on the rear bar.
Unless you carry a very light load, we do not recommend the 39mm Round or 40mm Square models. These smaller assemblies stress and break under extreme load.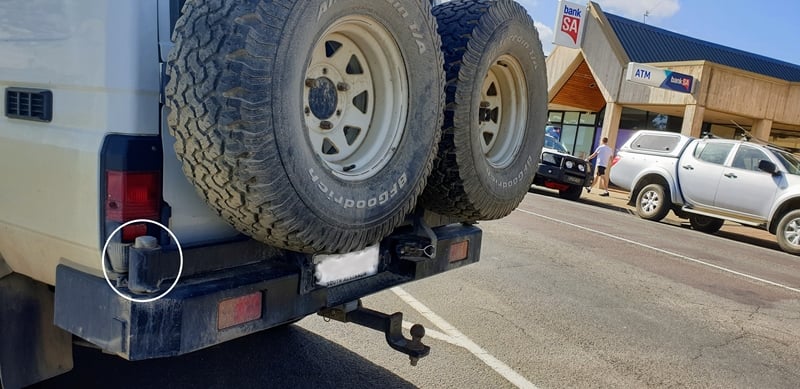 Inner ID 31.75mm, OD 59.10mm
Outer ID 19.05mm, OD 45.20mm
Seal ID 37.5mm, OD 59.10m
Grease Cap 45.20mm
Inner ID 35.00mm, OD 59.10mm
Outer ID 22.00mm, OD 45.20mm
Seal ID 43.9mm, OD 59.10mm
Grease Cap 45.20mm
Parallel Hub only plus Bearing Kit (no spindle).
Inner ID 35.00mm, OD 59.10mm
Outer ID 35.00mm, OD 59.10mm
Seal ID 43.9mm, OD 59.10mm
Grease Cap 63.00mm
Installation Note:
Bearing cups are machined into the hub. If you are replacing the bearings for any reason, do not insert new cups into the hub.
Suits the bearing profiles above and includes the bearings above. We made this high quality, heavy-duty replacement hub for a spare tyre carrier that has become worn or broken.
Replacement Rear 4WD Spare Wheel Carrier
Additional information
| | |
| --- | --- |
| Weight | 3 kg |
| Dimensions | 10 × 10 × 10 cm |
| Axle Profile | |