4WD Swing Away Hub
The Couplemate™ 4WD Swing Away Spare Wheel hub is a swing-away flangeless hub with bearing cones.
Product Specifications
Couplemate™ manufactures Swing Away Hubs from K1040, a high-grade Australian steel. This is the same grade of steel used for stub axles, as seen in the 4WD Swing Away Rear Kits, as this ensures a sturdy and quality product.
The Flangeless Hub is manufactured to suit the following bearing profiles:
The kits contain NSK-branded inner and out bearings cones, our Australian-Made Dust Caps, and seals.
Use tapered roller bearings on trailer and caravan axles as they handle a variety of awkward weights (such as spare wheels, jerry cans, trailer lifts, etc.).
Replace 4WD swing-away spare wheel carrier if the weight exceeds the bearing limitations. This results in assembly collapse, and if such, replace it with the non-bearing type carrier.
Couplemate™ recommends either the 45mm Slimline or 45mm Parallel model due to the added load caused by the fulcrum effect on the rear bar.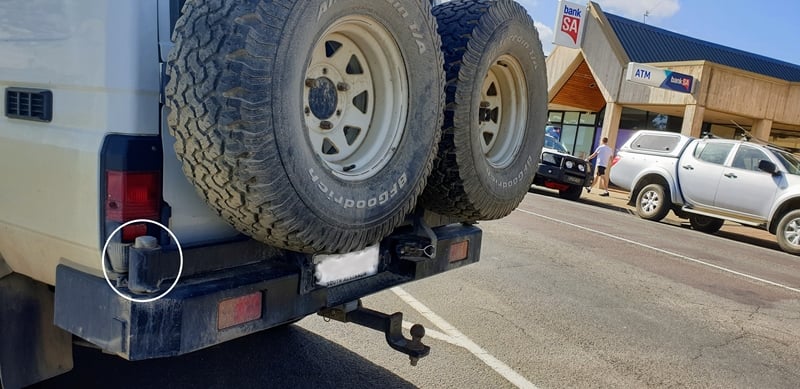 Image 1. The circled area is an example of a Swing Away used as a Spare Wheel Carrier. 
Installation Note
Bearing cups are already machined into the hub. If you are replacing the bearings for any reason, do not insert new cups into the hub.
Inner ID 31.75mm, OD 59.10mm
Outer ID 19.05mm, OD 45.20mm
Seal ID 37.5mm, OD 59.10m
Grease Cap 45.20mm
Inner ID 35.00mm, OD 59.10mm
Outer ID 22.00mm, OD 45.20mm
Seal ID 43.9mm, OD 59.10mm
Grease Cap 45.20mm
Parallel Hub only plus Bearing Kit (no spindle).
Inner ID 35.00mm, OD 59.10mm
Outer ID 35.00mm, OD 59.10mm
Seal ID 43.9mm, OD 59.10mm
Grease Cap 63.00mm
Purchase more spare wheel carriers here
Additional information
| | |
| --- | --- |
| Weight | 3 kg |
| Dimensions | 10 × 10 × 10 cm |
| Flangeless Hub | Holden Bearing (LM), Ford Bearing (SL), Parallel Bearing (PLL) |