Description
Dacromet Disc Brake Rotor
The Dacromet disc brake rotor is 10 inch in diameter and is used to brake boat trailers up to 1450kg.
This disc rotor sets the industry standard for disc braked axles and is the most popular rotor used in our axle builds. Prices vary according to Axles length and rated capacity.
The complete axle kits below are our most popular:
Disc stud pattern are Ford, HT, or HQ
Ford 4.5″ P.C.D.
HT 4.25″ P.C.D.
HQ 4.75″ P.C.D.
Dacromet rotors suit standard bearings on 39mm Round Axles to 40mm Square axles or SL bearings for 45mm Round Axles and larger.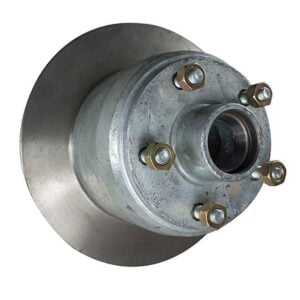 Landcruiser disc rotors are not available these bearings kits.
Purchase long nose BeeHive Rotors here.
A Larger capacity braked disc rotor is available for 1600kg and 2250kg ratings. These rotors suit 5 stud and 6 stud Landcruiser only.
Compatible with the following equipment:
Dacromet Disc Brake Rotor Ford, HT, HQ – 1450kg Maximum rating
Couplemate Trailer Parts sells only the best quality Disc Brake Rotor – Dacromet and caravan spare parts throughout Australia.
Customers are welcome to either pickup or take advantage of our low freight rates. Express shipping to Melbourne, Sydney, Brisbane, Perth, Adelaide, Darwin, and Hobart.
We also ship products to New Zealand via Australia Post Air Express.
© Steve Wotherspoon January 13, 2015. Images and text may be copied, provided a link back to the copied page and the source is displayed where the content or image is located.