Stainless Braided Hydraulic Hose Kit for Boat Trailers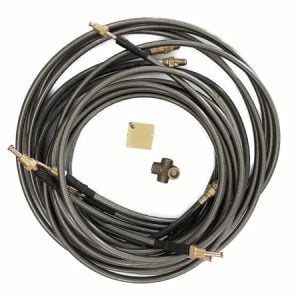 Stainless braided hydraulic hose kit. Build your own quality stainless braided hydraulic line kit by selecting the right size and adding it to the shopping cart.
Do you feel a spongy feeling in your trailer brakes during extreme braking conditions? Time to test your brake lines. Look at wet patches on the ground.
Once you have found the leaky, replace the hose or consider replacing all brake hoses. If one is leaking then there is a good chance all brake lines are on the way out.
However, it is a good idea to do a drawing and get your measurements perfect before you start.
Now you are ready to add your stainless steel braided brake lines to the shopping cart. Repeat the process until your cart is full of braided hoses.
Then select your brass fitting and maybe your Hydrastar or Al-ko IQ7.
The image on the right is what your stainless braided hydraulic kit should look like after it is all added to the shopping cart.
Customers have been asking us for different lengths of braided hoses, so the tandem kit was not practical.
Yes, we listened to you, and now I can present this auto-build kit to get the exact size for your hydraulic line installation.
Each hose is stamped with SAE (Standard American Equipment) compliance.
Adaptors and Brass Tees
After selecting your stainless braided line, add the adapters and stainless braided line to your shopping cart until your takeoff sheet is all ticked and items are ready for purchase.
The next big decision is how fast do you want your gear.
You can select from Express Services to eParcel.
Older trailers use flexible rubber brake hoses on their hydraulic braking systems. The rubber hose has either a male/male end or a male/female end.
Stainless braided hydraulic hose is suitable for the following hydraulic braking axles
Finally, Couplemate stocks a wide range of stainless braided brake lines in Brisbane.