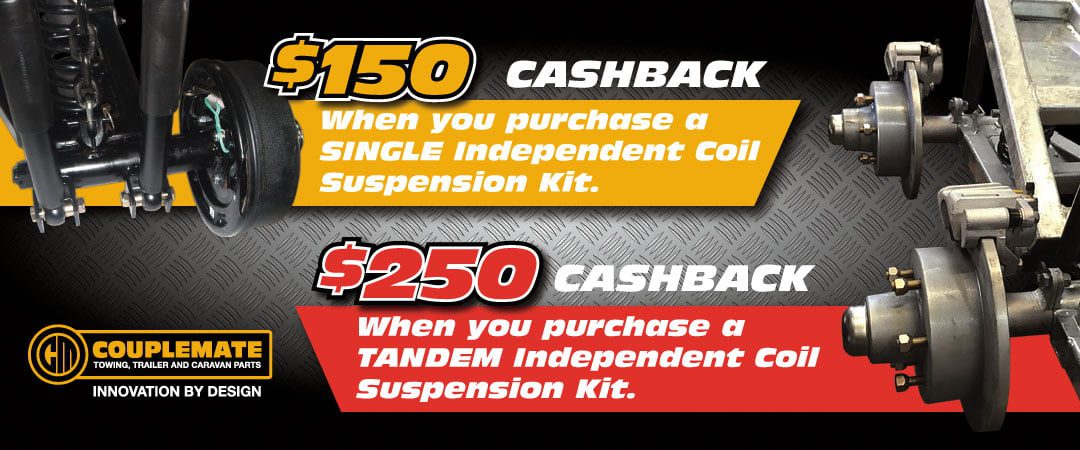 Independent Suspension Cash Back Terms and Conditions.
These terms and conditions apply to the Couplemate™ Independent Coil Suspension "Cash Back" EOFY offer (Offer). By participating, claimants agree to be bound by these conditions.
The Promoter is Couplemate Trailer Parts Pty Ltd ABN 15 873 719 871 (Promoter).
The Offer commences at 12:00 am (AEST) on 1 June 2021 and closes at 11:59 pm (AEST) on 30 June 2021 (Offer Period).
The Offer is open to any consumer who is 18 years or over as at the date the Couplemate™ Independent Suspension is purchased (Eligible Customers).
The Offer is only available with the purchase of a Couplemate™ Independent Coil Suspension (Single or Tandem) (Eligible Product). The Offer does not apply to any other product or Independent Suspension sold by Couplemate™.
The purchase time and date are the time and date at/on which the Eligible Customer provides consideration (payment) for the purchase of the Eligible Product from the Promoter.
The Offer consists of a Cash Back redemption of the Eligible Product purchased by an Eligible Customer.

$150 Cash Back with purchase of a Single Axle Couplemate™ Independent Coil Suspension
$250 Cash Back with purchase of a Tandem Couplemate™ Independent Coil Suspension

The Offer will be available for redemption up until 11:59 pm (AEST) on 30 June 2021.
To receive the Offer, the Eligible Customer will be required to complete an Electronic Submission Form online at www.couplemate.com.au/independent-suspension-kit-cash-back-offer/ Any queries relating to submitting claims should be made in writing via email to: sales@couplemate.com.au.
The Promoter will use the information contained in the Electronic Submission Form to contact the Eligible Customer if it has any queries regarding the claim.
The Promoter has the right to verify all entries.
The Eligible Customer's Cash Back redemption will not be approved until the Promoter receives confirmation via the Electronic Submission form, containing information of the Eligible Customer's purchase.
The Cash Back return will be processed through the original payment method used to purchase the Eligible Product.
If the Eligible Customer makes payment through Electronic Funds Transfer (EFT), they will be required to provide their Australian bank account name, Bank-State-Brand (BSB) code and account number to the Promoter.
The Eligible Customer should allow up to ten (10) business days from the day the Cash Back Request is submitted to the Promoter, for the Offer to be actioned.
The Eligible Customer should allow up to twenty (20) business days for the Eligible Product to be manufactured.
Limit of one (1) Offer will be applied per Eligible Customer.
Freight charges are not included in the Offer, and shipping is at an additional cost to the Eligible Customer.
The Offer cannot be combined with any other offer or promotion.
The Offer is only valid on orders purchased at Recommended Retail Pricing. No wholesale pricing is available in conjunction with this Offer.