Showing all 6 results
Tow Balls manufactured in all sizes from 50mm to 3″
Tow Balls are designed to connect different weight trailers to the tow vehicle. The most common tow ball size is 50mm.
The Australian Standard is AS 4177.2—2004. Publishing this standard is forbidden; however, the maximum force applied is 85kN for no less than 10 sec.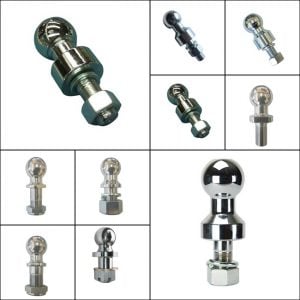 Tow balls are manufactured in a variety of sizes depending lo loading, carrying capacity, D-Value and V-Value.
50mm Ball with 7/8″ Shank
50mm Ball with 1″ Shank
2″ Ball with 1″ Shank
50mm Ball with high shoulder
2 5/16″ ball with 1 1/4″ shank
70mm Ball with 32mm Shank
3″ Ball with 50mm Shank
ADR Approved by Law is required for sizes over 3.5t, i.e. 70mm and 75mm sizes.
As a result of growing demand, Couplemate commenced the manufacture of all ball sizes. Our largest truck ball size is 3″ for our 10t gooseneck coupling.
We also found many Chinese balls do not pass AS4177.2. Therefore, compliance standards are not met; as a result, strict penalties and loss of reputation for offending companies are costly.
To ensure compliance with the regulations, Couplemate manufacturers and tests our towing equipment.
Finally, if you need us to manufacture custom towing appliances, give us a call on 07 33483822. We also stock a tow ball collar for 10t couplings.