Camper Jack Stands | RV Leveling Stands | Heavy Duty
Robust camper tray jacks and trailer support stands by Manutec provide slide on camper legs solutions for lifting heavy equipment from chassis rails to camper bodies.
Wherever you go, if you're lugging along a trailer, you'll have to detach and re-attach your trailer legs or truck camper stabiliser stands wherever you park.
Mounting brackets are available for all installations. Purchase mounting brackets here.
Australian camper drop legs are now taking the United States by storm.
Correct load capacity is essential when loading and unloading your semi-trailer in loading docks.
Quick and easy trailer back camper legs is essential for camping and made for Australian conditions. The use of a power drill or battery drill has become a favourite method of raising jacks.
Note: Some drop leg models produce sway under certain windy conditions. Drop leg models are fantastic as trailer stabilising legs; however, they derate when carrying full loads.
Camper tray jacks or trailer jack stabilisers are lightweight yet heavy-duty for the following towing vehicles,
Dual cab
Flat Tray
Camper trailer
Single cab tray
Ute campers
Slide on camper
RV Trailer
Note: Camper jacks are not suitable as a caravan side lift jack. Corner steadies are also unsuitable as a camper jack.
Slide on Tool Box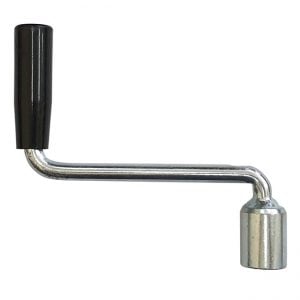 The ASSW-1.4meter stand is also a great accessory to lift the back tray and unload your toolbox from the ute. Slide on camper lifting legs is the latest in dual-purpose tray backs. This model includes a loose hex handle with each purchase.
When it's time to go camping, load up the camper onto the ute tray and load up the family. All ready for a great weekend in the great outdoors.
Your toolbox is in the backyard, ready to reload when you are prepared to return to work.
Tray Back Storage
Tough tinnies do a fantastic job of creating under tray space storage space and Trolley Jacks.
Tough Tinnies, in Wynnum Brisbane, make ute trays and install jacking kits.
Some Key Info On Camper Support Jacks And Camper Drop Legs
1.4-meter stabilising stands are popular choices for lifting camper bodies from the rear of ute trays. Drive into town, leaving the camper secured and locked in the caravan park.
Manutec make a variety of the strongest, and high-quality trailer support stands on the Australian market; they've been making the same camper stands for many years. Many have tried to copy the stands made by Manutec; however, most have failed to replicate the strength of this brand's products.
Manutec has a solution for lightweight camper body stands, and Al-ko jacks up to 4.5t lift capacity. They also trailer jacks and accessories for most of their products, including gears, loose side wind, fixed sidewind and handles.
Top Campers Video courtesy of www.campkingindustries.com.au
These applications are unsuitable for this product;
profile trolley jack, car stands, floor jack, electric jacks, car jack stand, hydraulic jack and lifting jack.