Caravan and Trailer Wheel Studs and Nuts
Wheel studs and nuts for your caravan or trailer are stocked by Couplemate Trailer Parts.
Question: Can wheel nuts be overtightened?
Answer: Wheel nuts can be overtightened and snapped when using a rattle gun, take care. Once the nut has stopped moving, it is tight.
A more accurate method is to refer to Owner Manual or Wheel Specification for the maximum torque settings below.
7/16″ Stud – 70-80 ft-lbs – 108Nm
1/2″ Stud – 75-85 ft-lbs – 115Nm
9/16″ Stud – 135-145 ft-lbs – 196Nm
5/8″ Stud – 175 ft-lbs – 237Nm
M12 Stud – 75-85 ft-lbs – 115Nm
M14 Stud – 135-145 ft-lbs – 196Nm
New wheels should be torqued after 150km, this should be done as the clamping loads would change due to thermal stresses.
When torquing the wheels, this should be done when the wheels are cool and have reached ambient temperatures.
Never torque a wheel when hot, always wait until the wheel cools down.
Loosen wheel nuts completely, then tighten and torque wheel nuts in the correct sequence.
Install dome nuts to fix the rusty stud problem.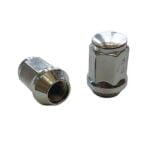 Travelling rough outback road has a few drawbacks.
One of which is wheel nuts becoming loose on rough and corrugated roads.
Broken wheel studs caused by wheel nuts falling off is typical yet unpublicised.
Read about horrific broken wheel studs here.
We recommend checking all wheel nuts every morning before even starting the car engine.
I use a battery rattle gun. It does a quick job and ensures tightness.
Spares are essential when travelling the Outback regions
For me, it is very comforting to know I have the following spares on board before heading into the outback:
Bearing Kits
Springs
Shackle Bolts and bushes
Spare Hub and
Square Stub Axle to suit
Ubolts long enough to clamp the stub axle onto the existing shaft (in case of axle profile breakage).
Finally, one of the best-stocked repair shops is Outback Spares, Charleville, Queensland