Bluetooth Programmable Hubodometer for Trucks
The Bluetooth Hubodometer is a precision tool to ensure an accurate kilometre logbook for truck maintenance. A kilometre log book is the preferred option over a time-based log book.
Once the app has been downloaded on your IOS or Android device, you can program the device by simply inputting the circumference of the type and desired mileage. Once installed for the first time, hubodometers can be re-programmed if the tyres are changed or zeroed on the next service event.
The battery life of the Bluetooth hubodometer is between 4 to 7 years. Sleep mode engages at zero motion resulting in battery savings.
Please check the hole size in the wheel. The outside diameter of the Bluetooth hubodometer is 95mm. The Bluetooth hubodometer also fits your housing if that is your preference.
Special Note: This Bluetooth hubodometer measures the circumference of the new tyre size. Worn and older tyres will vary a little to the actual distance covered.
How to Program your Bluetooth Hubodometer
Download the relevant app for your operating device:
For the Apple IOS app: search "WG-HUBO AUS."
For the Android app: search "Texcan AUS."
Program the Bluetooth hubodometer revolutions per kilometre for the tyre size. The app allows you to set and reset your Bluetooth hubodometer. However, the app does not keep a record of kilometres travelled.
You can also download our User Manual here. 
Fixing
On the back of the Bluetooth hubodometer is a 1/2" UNF Stud and nut.
Truck Bluetooth Hubodometer LogBook
A good start for your logbook caravan servicing would be: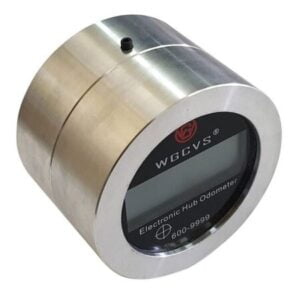 Five hundred kilometres after taking delivery.
Five thousand kilometres highway or 1000kg offroad.
Truck Bluetooth hubodometers trigger a service event for manufacturers by measuring kilometres travelled. Warranty issues are easier to understand when accurate kilometre reads are available.
Couplemate Trailer Parts also offers hubodometers with housing suitable for caravans. This is available for purchase here. 
Did You Know?
The truck tyres are tuned to your truck speedometer from the factory. Tyre wear as little as 10mm will drastically lower the speed and the distance you have travelled. The gearbox rotations generally govern the speedometer.
For example: if you are driving at 105 kilometres per hour, your actual speed will be 100 kilometres per hour on used tyres. This is why the Truck Bluetooth Hubodometer is a worthwhile purchase.
To confirm your speed, we recommend using the GPS on your mobile phone for a more accurate reading. The speedometer is often wrong unless the truck tyres are new.
Additional information
| | |
| --- | --- |
| Weight | 0.5 kg |
| Dimensions | 9 × 9 × 3 cm |