Hot joints and oxidisation are common problems when inspecting electrical connections in your trailer plugs and inside a caravan.
A hot joint is an electrical connection that becomes loose over time or is connected by only a few strands in the connector ferrule.
For example, a small cable like 23/.0076 has 23 strands of wire. If only eight strands of the cable are connected under the screw and the remainder of the wires are inside the terminal with no physical connection, a hot joint will be created.
Similarly, cables touching the ferrule may conduct electricity but are not connected. Once a load is applied, these cables can spark at full load, creating heat and, therefore, a hot joint.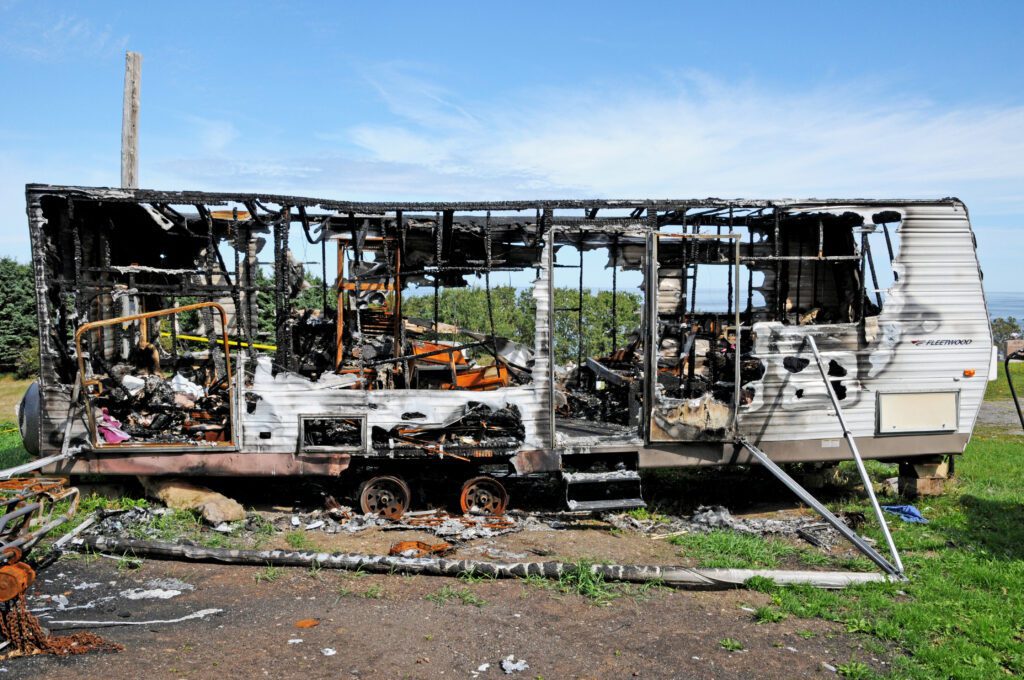 One in a Million Error
Cable manufacturing is pretty straightforward until the operator runs out of cable.
Rather than having a 1/2″ drum of cable, some operators splice the end of the copper run onto the start of a new spool.
The joint is then encased in the insulation. This joint will become hot and ineffective in time. It will almost be impossible to find.
How to find it? Test voltages at the magnet by applying the electric brake controller manually.
Authorised Electrical Connections
Your caravans 240v installed by an Authorised Electrician or an Electrical Contractor. The Australian Standard is AS3001 and, in particular, AS3001:2008.
However, for voltages under 32v, an electrical licence is unnecessary.
Fire can just as easily be created from 32v as it can 40v. For example, some of the older mobile phones were a fire hazard.
Fire hazards also exist in bad connections and undersized cabling or wrong connectors.
Trailer Plugs
An inspection of your 7 Pin Towbar Socket will likely identify a white powder around the male and female plug.
This white powder is zinc oxide.
Zinc Oxide is not a conductor of electricity. The Zinc oxide has when released from the zinc coating on your connector over time.
There is no way to fix oxidation other than to replace the connectors.
If not replaced, your trailer lighting will suffer intermittent failure, hot joints may appear, and your brakes will suffer significant voltage over 12v.
Before replacing the connectors, make sure your brake cabling is 5 or 6mm to ensure 12v is under load at your magnet.
There is more later in this article about how to install a trailer plug or socket correctly. Most plugs are installed incorrectly. A few commonsense procedures will ensure your connections last for as long as you own your rig.
Undersized Cabling
Anderson plug rated at 50A is common to find connecting caravans to towing vehicles.
These plugs replace 4 or even 6mm cabling used to support 12v electrical systems within the caravan.
AS owners add appliances to their caravans, the v electrical installation also needs to be upgraded. A quick visual of plugs and wiring will quickly identify problems.
Caravan Connection
The electrical connection inside caravans is likely to be covered by Australian Standards AS3001. My old electrical days tell me, Double Insulated 2.5mm cable is used for power and up to 1.5mm for lightning.
Double pole switches are to be used on all power points and light switches.
The cabling wire inside your caravan has thicker strands than that used in your trailer. Hot joints are not so common.
It is still good to be aware of the connection procedure for all cabling in your rig, as solar power is likely to be installed at some stage.
Connection Procedure
Cut back the outer sheath so that it does not protrude outside the sheath cover.
The cable must be inserted 100% into the back of the ferrule.
Measure the cut on the cable cores.
Take your time; this is not is a rush job.
Twist the cores and then solder the cores together, so a robust electrical bond exists.
Clamp the sheath cover into position.
Use long nose pliers to place the cable into the cable ferrule neatly.
Lock the terminal screw onto the soldered joint.
Repeat for every cable.
Replace sheath housing.
Question
Why is a soldered joint better than a screwed connection on bare cable.
In a few words, vibration fatigue. Read more about vibration fatigue here.
Cabling in Aircraft and other equipment exposed to extreme vibration fatigue is soldered, inserted into a spade or connector then crimped. This procedure greatly prevents hot joints.
In my opinion, a caravan on an Outback dirt road experiences more vibration than a Military Combat F15 flying mission in Syria. Al-ko outback rebound springs are made for such conditions.
A boat trailer will experience as much salt as trawlers on the TV series, the Deadliest Catch.
Electrical joints that are not soldered are guaranteed to fail at some point. Failure will either be via corrosion, oxidation, hot joint or fire.
If, like me, you rushed the electrical connections on your trailer, caravan or boat trailer. Please take an hour out of your time and do it correctly.
Is an ounce of prevention worth a ton of cure? Absolutely!
In conclusion, soldered electrical joints ensure a 100% effective electrical system.
Finally, an interesting article on vibration fatigue in caravans.
Hot Electrical Joints