What is the Difference between off-road and standard brake magnets?
When replacing your electric trailer brakes, you may be asked if you have standard or off-road brakes. This almost always refers to your magnets.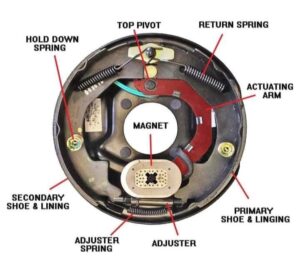 Brake magnets are attached to an actuating arm located on the electric backing plate.
The actuating arm has a pivot on the top side and a magnet on the bottom side.
The benefit of off-road magnets is increased longevity on corrugated surfaces. Interestingly, Couplemate has found that a lot of off-road campers and caravans don't actually feature Off-Road magnets, despite being for the Australian outback.
Standard magnets rattle on the steel actuating arm and cause the arm to cut itself into the steel magnet housing.
The Off-Road magnet on the other hand has a plastic insert that negates rattle and the cutting action.
We recommend checking your current magnet's health level, as well as the health of your brake drums, to determine which type you need. If you are ever unsure, don't hesitate to contact our expert team.
How to tell if you have a Standard Magnet
Standard magnets have wear indicators in a North, South, East and West position.
The magnet centre has a cross shape and requires a clip for the magnet spring.
How to tell if you have an Off-Road Magnet
Standard magnets have wear indicators parallel above and below the magnet.
The magnet centre has a single slit which doesn't require a spring clip.
Off-road magnets are supplied with a rubber band wrapped around the magnet and spring. This rubber band is installed on your backing plate, as it helps the user keep the spring in the correct position for easy installation.
The rubber band snaps after heat is applied and the brakes will function as normal.
Need a Picture? See the infographics below.
---
You might be interested…
Couplemate offers both standard and off-road electric magnets in two sizes:
For ease of installation, you may choose to replace your entire backing plate. Couplemate-style backing plates replace not only the magnet but the brake shoes as well.