Description
Electric Trailer Brake Conversion Kit

The electric brake conversion kit converts an unbraked trailer into an electric braked trailer or camper using the existing axle.
When looking for electric brakes is it important to consider quality when looking to invest in your caravan or trailer.
Couplemate sells only the highest quality electric backing plates, Japanese bearings, and Australian made Couplemate Brake Drums.
What makes Couplemate Drums Different?
Our engineers resolved a problem called porosity as a major cause of braking inefficiencies.
Porosity is a series of holes in a casting that causes lower brake shoe adhesion.
In simple terms, a porous surface will have less braking resistance than a non-porous surface.
The best way to explain how to remove air from steel is to understand how air is expelled from concrete. The process of shaking or vibrating the tooling containing a drum casting effectively removes air bubbles, thereby greatly reducing porosity.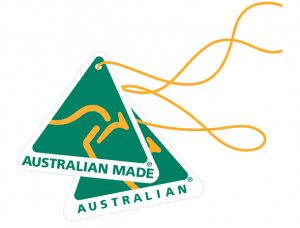 Further, during the machining process, our craftsmen are on the lookout for signs of porosity. When found, drums are rejected, scraped and returned to the furnace. As a result, you can be assured the drums you have purchased have undergone rigorous testing and inspecting processes.
Specifications
How to select the correct weld ring?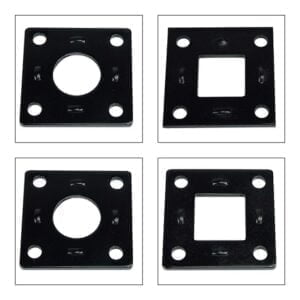 Firstly, examine the bearing profile to determine whether a marine or electric turn weld ring is required for your axle
An electric turn measures 128mm for slimline and 140mm for parallel bearings. This measurement is taken from the top of the axle to the back shoulder.
A marine turn measures 115mm for slimline bearings from the tip of the axle to the back shoulder.
(From the image) Use the square hole weld ring for marine turn and the round hole for electric turn axles.
Select your weld ring from the drop-down menu. Note: Electric weld rings are not suitable for hydraulic brakes.
Activate the caravan or trailer brakes from a brake controller in the tow vehicle or some states on the trailer chassis.
In addition, standard highway magnets are installed in all our conversion kits. However, Al-ko makes a perfect off-road magnet as an optional extra.  A wide selection of 10″ drums is available, including 5 and 6 stud Landcruiser and Landrover.
Disc brakes are not available to be electrically braked when installed on boat trailers. Mechanical disc brakes suit trailers under 1500kg. Lastly, hydraulic disc rotors are ideal for boat trailers over 2000kg.
Brake Kit Install Method #1
When fitting your electric weld ring, ensure pressure against the rear shoulder and quickly tack the four corners. You are now ready to weld the weld ring into place.
Brake Kit Install Method #2
Bolt the weld ring to the backing plate
Slide the backing plate onto the axle
Install the drum onto the axle and tighten (no grease in the bearings at this stage)
Pull the backing plate into the drum and then tighten the brake shoes to engage the drum firmly.
Tap the backing plate, so it is Concentrix with the drum
Tighten the shoes against the drum firmly
Tack the backing plate on the four corners
Remove the drum
Finally, finish the weld and proceed to repeat at the other end of the axle
Tips and Tricks for Troubleshooting Electric Brakes
How can I convert hydraulic trailer brakes to electric brakes?
Converting any axle from a hydraulic to an electric braking system is difficult unless you have the right equipment. A qualified caravan mechanic can easily perform these works for you.
Secondly, you will need to convert the existing hydraulic system coupling. For example, this may be from a surge brake or a brake actuator system to a proportional braking system.
Also, the new braking system will require an electronic brake controller.
Alternatively, bring your axle into Couplemate for the conversion or call a mobile mechanic to remove the axle from your rig.
Trailer parts include:
Electric Backing plates x 2
7/16″ Nylocks for backing plates x 8
Slimline or Parallel bearings x 2
10″ Electric Drum x 2
Weld rings x 2
Wheel nuts
How to correctly adjust your Electric Drum Braking System
Hydraulic disc brakes are superior in marine applications. Electric braking plates and drums rust out quickly when exposed to saltwater. Furthermore, fresh water is not as corrosive. However, hydraulic brakes are ideal in this environment.
Electric Brake Conversion Kit
Couplemate Trailer Parts sells only the best quality Electric Trailer Brake Conversion Kit and caravan spare parts throughout Australia.
Customers are welcome to either pickup or take advantage of our low freight rates. Express shipping to Melbourne, Sydney, Brisbane, Perth, Adelaide, Darwin, and Hobart.
We also ship products to New Zealand via Australia Post Air Express.
© Steve Wotherspoon September 11, 2018. Images and text may be copied, provided a link back to the copied page and the source is displayed where the content or image is located.