Description
45mm Square Galvanised Unbraked Lazy Axle
45mm square galvanised unbraked axle or lazy axle is used on tandem axle trailers and has a maximum weight rating of 1600kg in a parallel configuration. Tandem configurations over 750kg have one braked axle.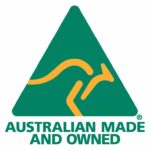 Unbraked axles in a single axle configuration, the maximum rating capacity is 750kg as a result of having no brakes. Tandem axle maximum rating is 2000kg with one axle, braked.
Why Couplemate axles are well-engineered
Couplemate galvanises Australian Steel in Brisbane.
Australian made hubs are machined, studded and galvanised by Couplemate.
Couplemate manufacturers galvanised axles in-house.
Couplemate installs the precision high-quality NSK bearings during assembly.
Finally, all axles are tested and double-checked in the final process before dispatch.
Galvanised Unbraked Axle kits comprise:
Our technicians insert NSK bearings into all Galvanised hubs.
Couplemate guarantees its axles to be trouble-free. Consumables such as bearings and seals need to be replaced from time to time. However, the axle profile and machining is the best money can buy.
Replacement trailer parts for braked trailers or unbraked axles are readily available.
Can Caravan Overlay Axles be inverted?
Why should I use Dome Nuts?
We sell dome nuts because I had a problem adjusting my bearings for the trip home from the Hawkesbury River.
No problem removing three wheels, however, the fourth wheel refused to move this wheel nut
No amount of leverage would unfreeze the rusty wheel nut.
The wheel nut protruded past the nut and has become rusted.
One of the guests in the caravan park produced a Hilti Rattle gun. To my surprise, it removed the rusty wheel nut immediately.
Available Stud Patterns
Ford – Slimline
HT Holden – Slimline
HQ Holden – Slimline
6 Stud Landcruiser – Slimline
5 Stud Landcruiser – Slimline
6 Stud Landcruiser Parallel
5 Stud Landcruiser Parallel
Trailer Axle Alignment
Installing a new axle into position is quite tricky for novice installers.
Measure the distance from the chassis rail to the back of the hub on both sides. Once correctly aligned, install the u-bolts over the axle.
Alternatively, measure the chassis width of the trailer. This measurement allows us to weld the axle pads onto the axle before delivery. As a result of the installed axle pads, the axle will auto-locate over the spring centre pins.
In seconds, the axle is perfectly aligned and ready for the u-bolt kit to be installed.
Further, more galvanised trailer axles below
50mm Square Galvanised UNbraked Axle Assembly
Calculating The Correct Axle Measurements
As a result of viewing the video above, calculate the face to face measurement.
Measure the offset wheel. The wheel offset is the distance between the inside of the hub and the outside of the rubber.
Add 50 mm to the offset. Alternatively, choose your own distance between the rubber and the chassis.
Multiply by 2 for both sides. Add your chassis width to the above number.
Metric to Imperial Converter
Convert Imperial (inches) to metric (mm)
Still unsure of what measurements to take? Check out this handy guide below:
[P] – Check material specifications. What size and profile is the axle (for example, 45mm Square)
[T] – Overall axle length (tip to tip)
[F] – Hub face to hub face measurement
[A] – Chassis width
[C] – Tyre clearance
[B] – Back offset
[H] – Tyre to chassis
[G] – Axle pad centres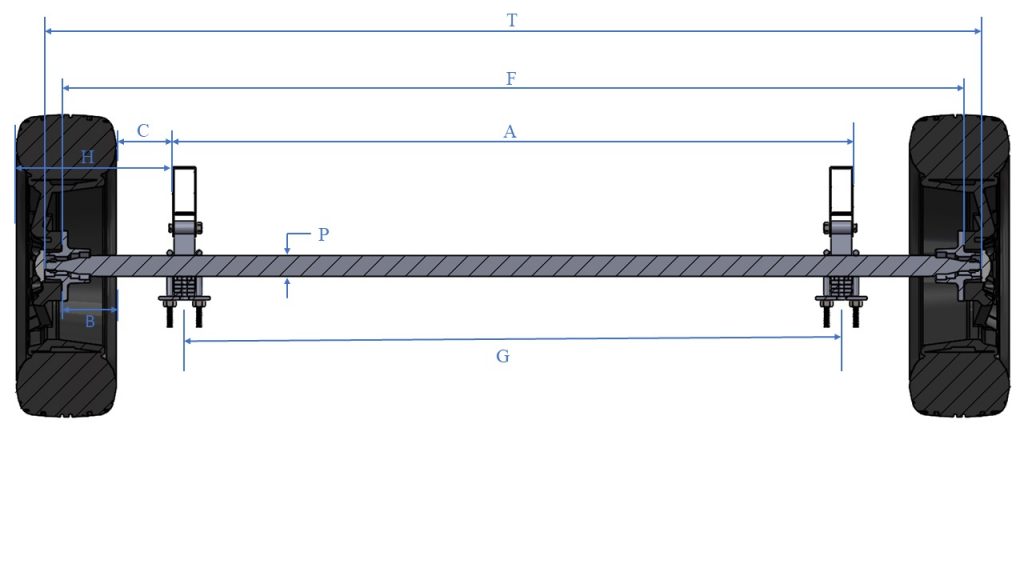 Identifying Bearing Combinations
You will also need to identify your bearing combination which can be done by pulling off a hub and bearings, and locating the number laser engraved onto the bearing. You will require both the inner and the outer bearing number.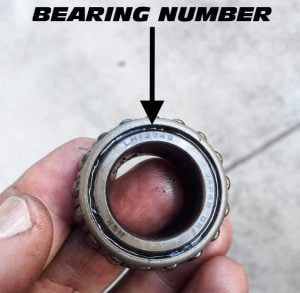 Finally, if you need help, give team Couplemate a call when selecting trailer spare parts for your boat trailer.
Couplemate Trailer Parts sells only the best quality 45mm Square Galvanised Unbraked Axle and caravan spare parts throughout Australia.
Customers are welcome to either pickup or take advantage of our low freight rates. Express shipping to Melbourne, Sydney, Brisbane, Perth, Adelaide, Darwin, and Hobart.
We also ship products to New Zealand via Australia Post Air Express.
© Steve Wotherspoon December 4, 2019. Images and text may be copied, provided a link back to the copied page and the source is displayed where the content or image is located.