50mm Square Galvanised Lazy Axle
50mm square galvanised lazy or unbraked axle is used on tandem trailers and has a maximum weight rating of 1600kg in a parallel configuration.
Tandem axles under 2,000kg require brakes on one axle. Tandem trailers over 2t require electric brakes on all axles. In the case of braking requirements for boat trailers over 2t, electrically activated hydraulic brakes are acceptable.
Important: Axle pads locate and centre the axle of the trailer springs. Please advise the outside chassis width of your trailer. We are then able to weld axle pads into the correct position. This service is not included in the price as some customers do not require this service.
Axles and hubs are Australian made by Couplemate and Galvanised in Brisbane; as a result, you are purchasing the best equipment money can buy.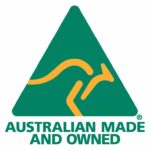 Seal Shoulder
The seal shoulder is an essential factor when selecting stub axles.
Electric stub axles have a seal that should set back 128mm for standard slimline bearings and 140mm for parallel bearings
Marine stub axles have a rear shoulder of 115mm to accommodate a marine seal
Parallel Marine is 125mm to the rear shoulder
2t Electric is 180mm to the weld ring shoulder
2t Marine is 141mm to the back shoulder
Please measure the back shoulder before ordering.
Why should I use Dome Nuts?
I had a problem adjusting my bearings for the trip home from the Hawkesbury River.
No problem removing three wheels, however, the fourth wheel refused to move this wheel nut
No amount of leverage would unfreeze the rusty wheel nut.
The wheel nut protruded past the nut and has become rusted.
One of the guests in the caravan park produced a Hilti rattle gun. To my surprise, the rattle gun removed the rusty wheel nut immediately.
Galvanised Unbraked Axle kit comprises:
Our technicians insert NSK bearings into all Galvanised hubs.
Available Stud Patterns
Ford - Slimline
HT Holden - Slimline
HQ Holden - Slimline
6 Stud Landcruiser - Slimline
5 Stud Landcruiser - Slimline
6 Stud Landcruiser Parallel
5 Stud Landcruiser Parallel
2t x 6 Stud
2t x 5 stud
Trailer Axle Alignment
Installing a new axle is tricky for most installers.
Measure the distance from the chassis rail to the back of the hub on both sides. Once correctly aligned, install the u-bolts over the axle.
Alternatively, measure the chassis width of the trailer. This measurement allows us to weld the axle pads onto the axle before delivery. As a result of the installed axle pads, the axle will auto-locate over the spring centre pins.
In seconds, the axle is perfectly aligned and ready for the u-bolt kit to be installed.
Finally, the links below contained a variety of stub axles we manufacture
Additional information
| | |
| --- | --- |
| Weight | 90 kg |
| Dimensions | 240 × 60 × 60 cm |
| Stud Pattern | 2t Landcruiser 5 Stud | ElectroGal, 2t Landcruiser 6 Stud | ElectroGal, 5 Stud Landcruiser – Parallel, 6 Stud Landcruiser – Parallel, Ford (5 x 114.30mm), Holden HT (5 x 107.95mm), Holden HQ (5 x 120.65mm), Land Cruiser 6S, 5s Landcruiser (5 x 150mm) |
| Face to Face Length | 1325mm, 1350mm, 1375mm, 1400mm, 1425mm, 1450mm, 1475mm, 1500mm, 1525mm, 1550mm, 1575mm, 1600mm, 1625mm, 1650mm, 1675mm, 1700mm, 1725mm, 1750mm, 1775mm, 1800mm, 1825mm, 1850mm, 1875mm, 1900mm, 1925mm, 1950mm, 1975mm, 2000mm, 2025mm, 2050mm, 2075mm, 2100mm, 2125mm, 2150mm, 2175mm, 2200mm, 2225mm, 2250mm, 2275mm, 2300mm, 2325mm, 2350mm, 2375mm |