Description
Last updated on December 5th, 2019 at 03:02 pm
Al-ko® mechanical galvanised disc caliper includes disc pads with anti-rattle plates. (new version)
For use with disc rotors up to 1.5t for both 10″ and 12″ disc rotors.
There are 4 types of Alko® mechanical caliper
1400kg forward Pull
1400kg centre pull
2000kg forward pull
2000kg centre pull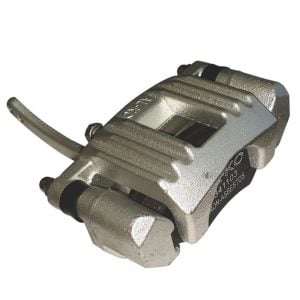 Maximum braking capacity 1300kg (16″ Wheels) – 1400kg (14″ wheels) on a 45mm Axle.
Mechanical Disc Brakes
Galvanised disc caliper body and lever.
Stainless steel sliding bushes and adjusting bolts.
Suits both independent rubber suspension axles and beam axles.
Suitable for disc thickness from 10mm to 15mm.
Disc and Caliper range to fit wheels from 13" to 16" diameter.
Dual brake ratios.
Easy to operate and adjust.
Find spare pads or replacement pads here.
TIP: Use the bolt on your disc caliper to help keep your pads straight when braking. Quite often pads wear prematurely when this bolt is not tight causing the pads to bed into the disc at an angle.
The cable adjuster removes slack from stretched cable. Just the adjustment bolt to adjust for pad wear.
Popular mechanical disc caliper to suit 10″ and 12″ disc rotors.
Anti-rattle clip on the disc caliper pads helps prevent chatter and help keep the disc pads square to the braking surface on the disc rotor.
Tip: Adjust the disc caliper bolt until tight then back off 1/2 turn.
This adjustment helps prevent pad chatter and keeps you pads perfectly aligned during braking.
The cable adjuster near the override coupling should only be used to remove slack from the cable.
New caliper anchor plates can be found here.
Al-ko® Mechanical Disc Caliper
Couplemate Trailer Parts sells only the best quality Al-ko® Mechanical Disc Caliper – Forward or Centre and caravan spare parts throughout Australia. Customers are welcome to either pickup or take advantage of our low freight rates. Express shipping to Melbourne, Sydney, Brisbane, Perth, Adelaide, Darwin, and Hobart. We also ship products to New Zealand via Australia Post Air Express.