Hydraulic Trailer Master Cylinder, Override, Single, Tandem and Tri-Axle
Hydraulic trailer master cylinder, 3/4", 7/8", 1" to suit 2,000kg override couplings. Best suited to 14", 15" and 16" wheels.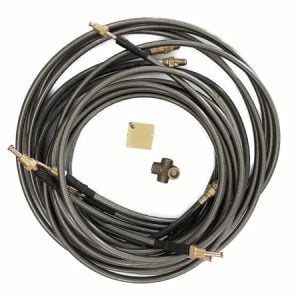 The trick to an efficient hydraulic braking system is correctly bleed and adjusted brakes. Once brakes are bleed, tighten the nut on the back of the brake lever.
Three types of hydraulic trailer brake master cylinders are now available for purchase.
3/4" - Hydraulic Single Brake Trailers.
7/8" - Hydraulic Tandem Trailers.
1" - Hydraulic Tri-Axle Trailers
A zinc bracket is required brake for hydraulic braking systems.
Fit the master cylinder bracket on the rear bolt mounts
Bolt hole mounts are 54mm between centres
Select 1/2 inch bolts that bolt right through your bracket, coupling and drawbar
Disconnect the parking brake
Adjust the lower nut 2mm from the back of the override then lock it off.
Precise instructions can be found from Al-ko here
Further, we have more information from our engineer
you must have at least 2mm free play, between 2mm and 5mm when the hydraulic brake pads start to wear
if there is no free play, as soon as the brakes start to work and get a little warm, you will start to get brake build-up, increasing heat and burning out your brakes or even popping the seals in the master cylinder
3/4" Master Cylinder
The 3/4 inch master cylinder is the crucial braking component used on single axle braked trailers. These trailers have two-wheel cylinders.
3/4 inch refers to the piston bore size.
Further, you'll also buy a wide range of braking system components like 9-inch hydraulic brake shoes, hydraulic drum brakes, and even electric brake parts.
7/8" Master Cylinder
The 7/8 inch master cylinder is the crucial braking component used on tandem trailers with four hydraulic cylinders.
The plastic bowl version requires regular replacement as is susceptible to UV degradation.
1" Master Cylinder
Tri-axle trailers up to 4.5t use a 1-inch master. One inch refers to the bore size.
Alternatively, some boat builders like the steel body and steel cap in preference to plastic caps that suffer UV degradation.
What type of brake fluid should I use?
DOT 3 or DOT 4 is what should be used in your boat trailer. DOT 5 cannot be used in trailer brake systems unless stated explicitly by the actuator and brake manufacturer. This type of hydraulic oil does not absorb water, and the silicone in the DOT 5 makes the seals swell and can bind up caliper pistons.
Do not use DOT 5 or silicone brake fluids in any brake system including individual actuators, disc brakes, drum brakes or solenoids.
Purchase spare parts and other trailer parts here