45mm Square Axle Ford Bearing Australian Made
45mm Square Axle Ford Bearing is manufactured in our Brisbane warehouse. Note: Short axles are on special.
Parallel, Slimline or even American axles in plain or galvanised steel. When measuring from the face of the axle, add 100mm to this measurement to get the tip of the thread to the tip of the thread length.
Australian Axles are a little more expensive than China or Indian Axles. However, Australian made axles have a better profile finish resulting in a longer life for your bearings.
Electric Vs Marine Turn
When ordering a bare axle it is important to note what type of turn is required for the end of the axle to be machined to. This affects how the seal sits on the shoulder of the axle. The difference in measurements can be identified using the drawings below: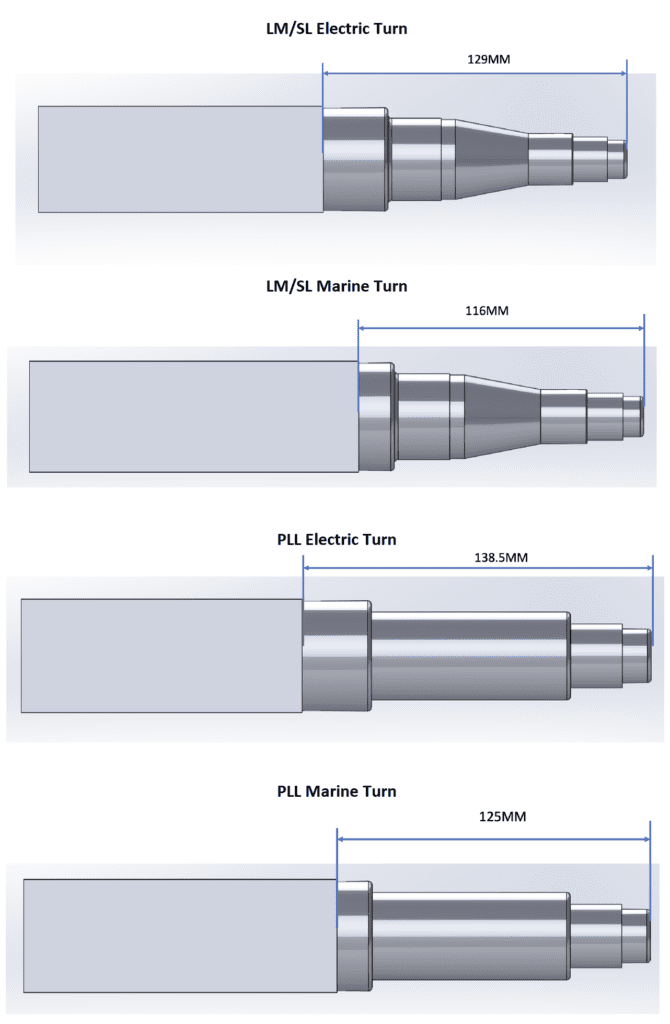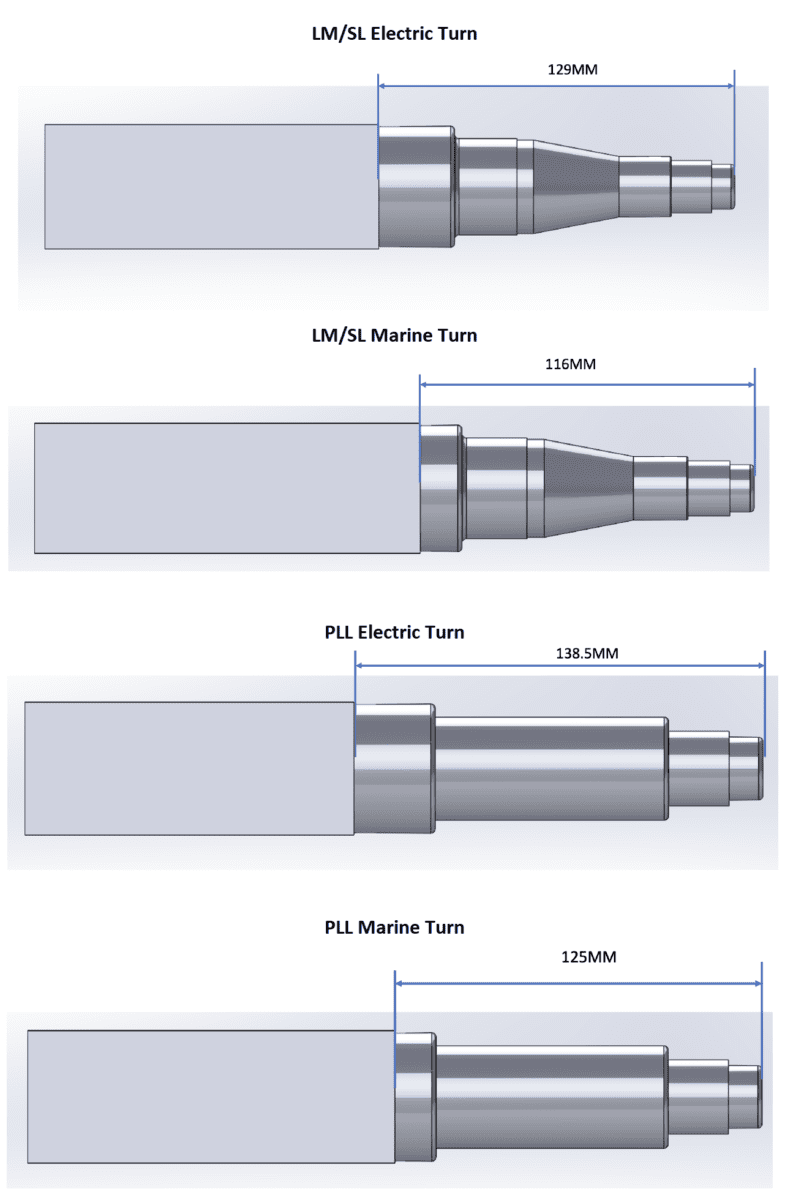 A Square Axle with LM Holden bearings is perfect for your trailer, caravan or camper for loads up to 750kg.
If you wish to order a Holden LM bearing configuration, please select Slimline from the drop-down column above and write a notation in the delivery notes of the order advising that you require Holden LM bearings. Pricing will be as per Slimline axles.
A Square Axle with Slimline bearings is perfect for your trailer, caravan or camper for loads up to 1450kg.
A Square Axle with Parallel bearings is perfect for your trailer, caravan or camper for loads up to 1600kg.
If you are towing your rig straight and true, perfect if not, then below are a few tips.
Ford Bearing Common problem:
Too much weight will bend this 45mm Square Axle and cause it to experience axle flex.
Axle flex occurs when a heavily ladened trailer spring re-bounds on the highway, causing the 45mm square axle to flex up and down or vibrate in the middle of the axle.
Springs fatigue and fail prematurely under axle flex or overload conditions.
Our 45mm axle steel is sourced from Australian manufacturers (BlueScope Steel) and machined in our Brisbane workshops. If your axle is 45mm axle is bending, buy a 45mm square parallel axle and update it to 1.6t.
How to make Axles for Caravans and Trailers
Other Common Trailer Problems:
If your 45mm Square Parallel Axle is not correctly engineered, you may experience excessive bearing wear. The roughest seal journals can cause a loss of grease through the rear seal.
45mm Square Axle SL must be examined before installing for steel cracks along the axle. Some suppliers supply non-virgin steel or scrap steel and forge this steel into a solid square or round shape for axle production.
Chinese bearings are the second biggest cause of axle failure. If you plan to get onto a highway, use Japanese bearings. The combination of Japanese Bearings and a 45mm Square Axle will help you significantly with lower maintenance for your rig.
Are your tandem tyres wearing unevenly? If so, ask your local trailer repairer or manufacturer if he can perform a triangulation. Although the axles are installed straight, the trailer frame could be welded out of shape.
Axle Solutions:
If your axle is under 2000mm and is six stud Landcruiser, upgrade to

a parallel axle.

If your axle is over 2000mm and has six stud Landcruiser, upgrade to a parallel axle.
Couplemate assembled axles with Japanese provide you with our unconditional guarantee of a well made, well-backed axle assembly.
Finally, SL Profile. Axle length measurement is tip to tip. Axles supplied with nut, washer and split pin.
Calculating The Correct Axle Measurements
Measure the offset wheel. The wheel offset is the distance between the inside of the hub and the outside of the rubber.
Add 50 mm to the offset. Alternatively, choose your own distance between the rubber and the chassis.
Multiply by 2 for both sides. Add your chassis width to the above number.
Metric to Imperial Converter
Convert Imperial (inches) to metric (mm)
Still unsure of what measurements to take? Check out this handy guide below:
[P] - Check material specifications. What size and profile is the axle (for example, 45mm Square)
[T] - Overall axle length (tip to tip)
[F] - Hub face to hub face measurement
[A] - Chassis width
[C] - Tyre clearance
[B] - Back offset
[H] - Tyre to chassis
[G] - Axle pad centres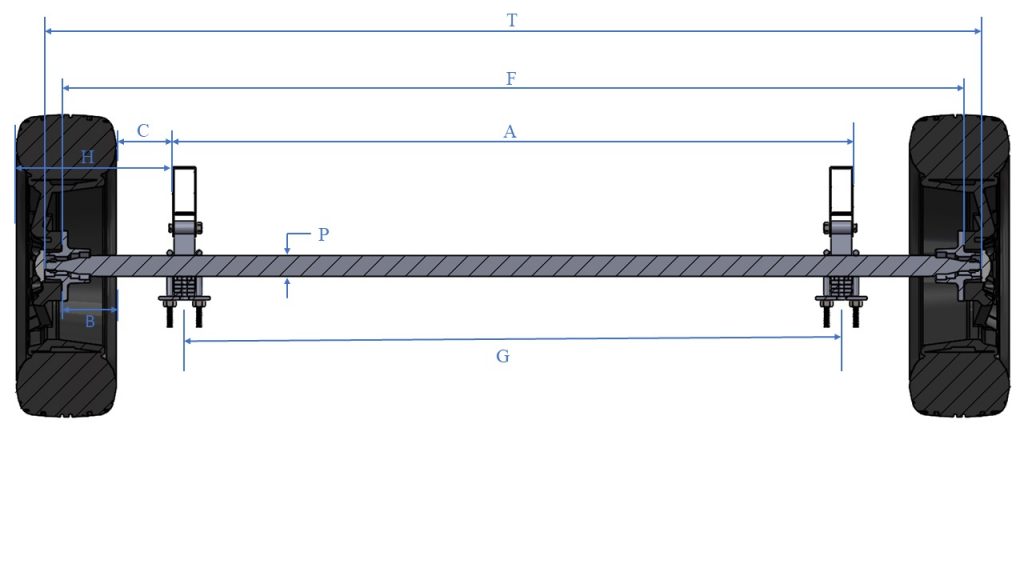 Identifying Bearing Combinations
You will also need to identify your bearing combination, pull off a hub and bearings and locate the number laser engraved onto the bearing. You will require both the inner and the outer bearing numbers.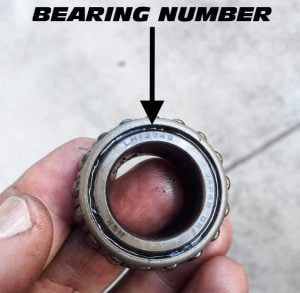 Caravan axles and their maximum rating.
Additional information
| | |
| --- | --- |
| Weight | 70 kg |
| Dimensions | 240 × 50 × 50 cm |
| HubOdometer Version | Ford Slimline Bearing, Parallel |
| Tip to Tip Measurement | 1000mm Long, 1025mm Long, 1050mm Long, 1075mm Long, 1100mm Long, 1125mm Long, 1150mm Long, 1175mm Long, 1200mm Long, 1225mm Long, 1250mm Long, 1275mm Long, 1300mm Long, 1325mm Long, 1350mm Long, 1375mm Long, 1400mm Long, 1425mm Long, 1450mm Long, 1475mm Long, 1500mm Long, 1525mm Long, 1550mm Long, 1575mm Long, 1600mm Long, 1625mm Long, 1650mm Long, 1675mm Long, 1700mm Long, 1725mm Long, 1750mm Long, 1775mm Long, 1800mm Long, 1825mm Long, 1850mm Long, 1875mm Long, 1900mm Long, 1925mm Long, 1950mm Long, 1975mm Long, 2000mm Long, 2025mm Long, 2050mm Long, 2075mm Long, 2100mm Long, 2125mm Long, 2150mm Long, 2175mm Long, 2200mm Long, 2225mm Long, 2250mm Long, 2275mm Long, 2300mm Long, 2325mm Long, 2350mm Long, 2375mm Long, 2400mm Long, 2425mm Long, 2450mm Long, 2475mm Long |
| Axle Shoulder Turn | |